Alex Pappas
President Barack Obama and the woman who likely wants to be his successor, former Secretary of State Hillary Clinton, held a secret meeting at the White House on Thursday.
In a strange sequence of events, the White House was forced to confirm the previously undisclosed Obama-Clinton lunch summit after People magazine tweeted — then mysteriously deleted — the news about the meeting.
"The President enjoyed an informal, private lunch with Secretary Clinton at the White House this afternoon," a White House official said.
Because the lunch had not been on the president's public schedule, Roll Call reporter Steve T. Dennis, who was serving as the White House pool reporter on Thursday, said he "lodged a complaint about the lack of transparency on the meeting with White House Press Secretary Jay Carney."
Some reporters grabbed a screenshot of the People Magazine tweet before it was deleted.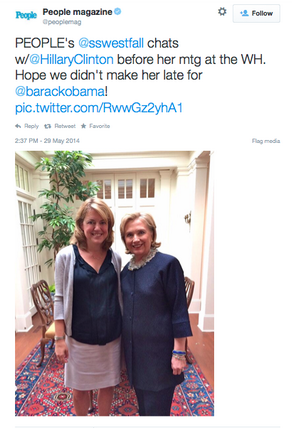 Read more: http://dailycaller.com/2014/05/29/obama-and-hillary-hold-secret-meeting-at-the-white-house/#ixzz33CluHoUp