The
comandante
overthrew Batista, established a communist state and survived countless American assassination attempts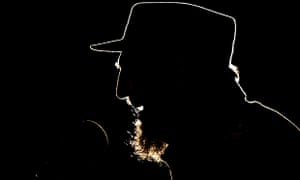 Rory Carroll
Fidel Castro
has died at the age of 90, Cuban state television announced on Saturday, ending an era for the country and Latin America.
The revolutionary icon, one of the world's best-known and most controversial leaders, survived countless US assassination attempts and premature obituaries, but in the end proved mortal after suffering a long battle with illness.
The announcement was long expected, given the former president's age and health problems, but when it came it was still a shock: the comandante – a figurehead for armed struggle across the developing world – was no more. It was news that friends and foes had long dreaded and yearned for respectively.
Confirmation of his death will trigger celebrations in Miami, the centre of Cuba's exile community, and mourning among leftwing admirers around the world. For many Cubans on the island who grew up in his shadow, simultaneously respecting and resenting him, it will be a moment of profound ambivalence.
One thing all could agree on was that this extraordinary figure left his mark on history.
More than half a century ago, his guerrilla army of "bearded ones" replaced Fulgencio Batista's corrupt dictatorship with communist rule that challenged the US and turned the island into a cold-war crucible.
By Raúl's own admission, however, Fidel is irreplaceable. By force of charisma, intellect and political cunning the lawyer-turned-guerrilla embodied the revolution. Long before his passing, however, Cubans had started to move on, with increased migration to the US and an explosion of small private businesses.
His greatest legacy is free healthcare and education, which have given Cuba some of the region's best human development statistics. But he is also responsible for the central planning blunders and stifling government controls that – along with the US embargo – have strangled the economy, leaving most Cubans scrabbling for decent food and desperate for better living standards.
The man who famously declared "history will absolve me" leaves a divided legacy. Older Cubans who remember brutal times under Batista tend to emphasise the revolution's accomplishments. Younger Cubans are more likely to rail against gerontocracy, repression and lost opportunity. But even they refer to Castro by the more intimate name of Fidel.
Since largely vanishing from public view he has been a spectral presence, occasionally surfacing in what became a trademark tracksuit, to urge faith in the revolution. It was a long goodbye which accustomed Cubans to his mortality.
Exiles in Florida, the heart of the diaspora which fled communist rule, are expected to celebrate. Previous false reports of Castro's death triggered cavalcades of cheering, flag-waving revellers.
Latin America's leftist leaders, in contrast, will mourn the passing of a figure who was perceived less as a communist and more as a nationalist symbol of regional pride and defiance against the gringo superpower. The funeral is expected to attract numerous foreign heads of state, intellectuals and artists.
Source>https://www.theguardian.com/world/2016/nov/26/fidel-castro-cuba-revolutionary-icon-dies