Russian hacking has become an argument for renewing federal oversight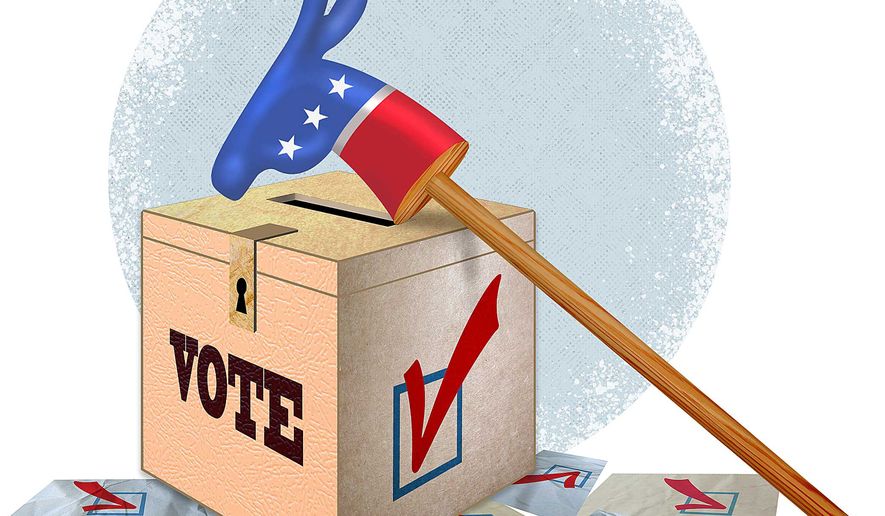 Democrats New Hobby Horse Illustration by Greg Groesch
J. Christian Adams
ANALYSIS/OPINION:
When the Democratic Party and its deep-state allies' favorite anti-Trump columnist begins to sour on the promise of a Russian collusion probe, it is time to start looking for a consolation prize. Based on the overnight interest in all things voting security, they seem to have found a new hobby horse.
For more than a decade, any person who honestly spoke about their sincerely held concerns regarding "election integrity" was summarily branded as a partisan fabulist upset by the fact that non-white voters could turn out in greater numbers.
Now, the left is trying to corner the market. This is not the first time the interest was nursed to detract from the results of the 2016 election. Though it may seem a lifetime ago, Jill Stein hyped a multistate recount effort for a significant portion of the electorate much in need of political succor on the same premise.
The fact pattern offered for Russian meddling in our election systems is still not on solid ground. Heads of the FBI and Homeland Security at the time exude confidence when they repeatedly assure the public now that no votes were tainted. Though assertions abound that Ivan did his best otherwise, each "bombshell" report presents more whiffs of conspiracy and sloppy reporting than hard evidence.
The latest scoop, as an example, blares that hackers actually managed to "alter voter information," but it seems anonymous sources cannot agree who might have done the deed. Their hesitation is warranted, given the case of North Carolina election worker Joy Yvette Wilkerson, who stands charged of accessing 250 voter files to remove their felon statuses.
Let's not forget that the state of Georgia is still accusing the Obama Department of Homeland Security of hacking them and claiming this is all to set a predicate for increased federal intervention.
Cutting through the noise, we arrive at the question: Did our "patchwork" of rickety state voting systems leave us vulnerable to Russian cyber-attacks, or did that same decentralized system confound some of the best in the business?
The establishment left is not letting a good crisis go to waste.
Instead of focusing on the foundational matter of how best to maintain the content of our voter registration systems, we are witnessing the beginning of a leftist regression — where the only solution worthy of discussion is how election powers are better centralized in Washington.
Repeatedly during Jeh Johnson's House Intelligence Committee testimony, he was asked what Congress could do to intervene. To Mr. Johnson's credit, he scoffed at the probability of a smooth federalization of voting systems. He must not have gotten the memo, which is understandable considering Mr. Johnson is no veteran of the voting wars.
The proposals and even some actions taken are predictable. The Obama Department of Homeland Security categorized election systems as critical infrastructure when it headed for the exit. To this day, no one really knows what that means in practice. Calls for new federal standards have been echoed from Capitol Hill and beyond, but the details are still sketchy and indicate a pattern of rushing to grab control before pondering what one would actually do with it. One interest group even suggests that we go back to paper ballots — essentially trading hacking risks for the good old days of ballot stuffing and rather strained rulings on which box a voter put his mark.
The real deep-state prize remains: returning states under the thumb of federal bureaucrats when they want to change voter ID laws and even polling place locations. In other words, "fixing the Voting Rights Act," as the racial interest groups call it.
With election systems still getting front page ink, the remnants of the once-respectable civil rights establishment hope to pivot public attention toward their lust to renew old unconstitutional federal oversight powers. It has the added benefit of getting many of the employees of these groups plum jobs on the Government Service scale to boss state election officials around.
The core concern is getting lost in the rush to standardize and federalize. A state voter registration system with the best cybersecurity that taxpayers can buy is meaningless if the data protected is not properly maintained. For eight years, voter rolls were allowed to fall into disrepair. In response, several experts have taken it upon themselves to assist officials in cleaning up their books.
The question is not whether the Russians attacked our systems. We must instead ask ourselves if we are willing to hold states accountable in combating integrity threats from within with equal zeal as those on the outside. If the day comes when a hacker attacks a dirty voter roll, how will a clerk even know something is amiss?
Source>http://www.washingtontimes.com/news/2017/jun/27/election-integrity-issue-got-democrats-to-the-tabl/