First of all Beck is a Liar. He never Served his Nation as a Transgender. After retirement he started dressing as a women. This is just another example of sexual
preferences making it into the Headlines. Good Job of Fooling your comrades and those who love you. Just another interloper with a personal mission...
His Alpha Dog
Statement,
'Tell me I'm not worthy' to my face says it all!
.
.
.tmiraldi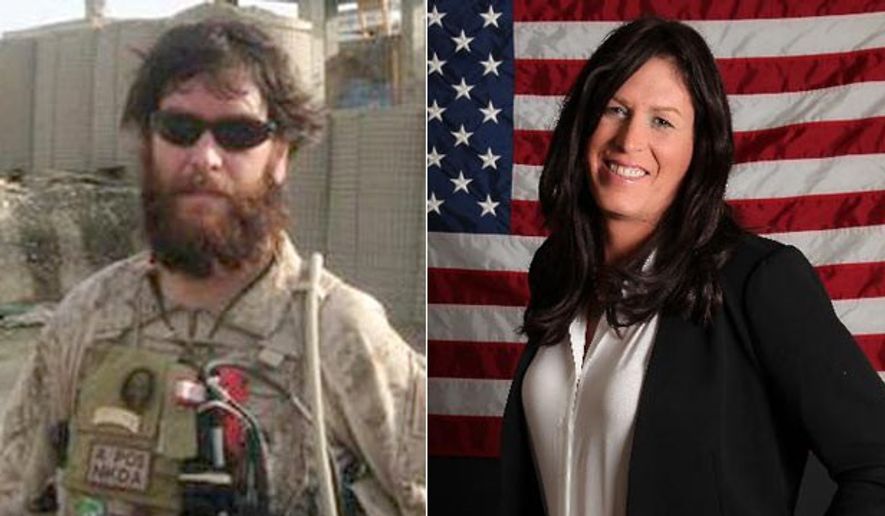 'Transgender doesn't matter. Do your service,' she added
Jessica Chasmar
Kristin Beck, a former Navy SEAL Team 6 member who publicly came out as transgender in 2013, had some tough criticism for President Trump's plan to reinstate a ban on transgender individuals serving in the military.
"Let's meet face to face and you tell me I'm not worthy," Kristin Beck, a 20-year Navy veteran and the first openly transgender former SEAL, told Business Insider on Wednesday. "Transgender doesn't matter. Do your service."
Mr. Trump announced the controversial decision to ban transgender individuals from serving in the military "in any capacity" in a series of tweets Wednesday morning.
"After consultation with my Generals and military experts, please be advised that the United States Government will not accept or allow transgender individuals to serve in any capacity in the U.S. Military," the president wrote. "Our military must be focused on decisive and overwhelming victory and cannot be burdened with the tremendous medical costs and disruption that transgender in the military would entail. Thank you."
Ms. Beck, who served stints in Bosnia, Iraq and Afghanistan and received multiple military awards and decorations, said the move would negatively impact the thousands of transgender individuals already serving in the military or those who want to enlist. She said any potential issues with military unit cohesion or readiness should signal a problem with leadership, not transgender people as a whole.
"A very professional unit with great leadership wouldn't have a problem," she said. "I can have a Muslim serving right beside Jerry Falwell, and we're not going to have a problem. It's a leadership issue, not a transgender issue."
Ms. Beck said the money the Trump administration is looking to save with this decision is "negligible."
Source>http://www.washingtontimes.com/news/2017/jul/26/kristin-beck-transgender-former-seal-team-6-member/