Kate's Law, approved by the House, would protect Americans in their own country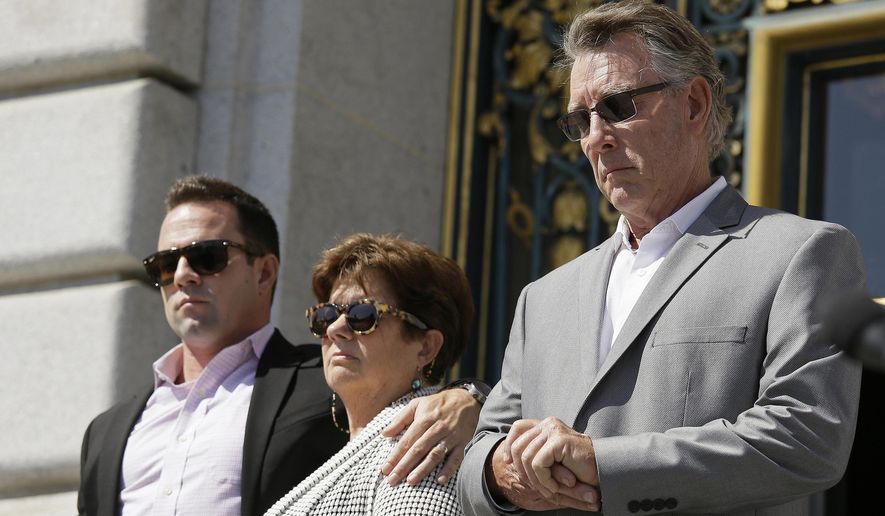 THE WASHINGTON TIMES
(Editorial)
ANALYSIS/OPINION:
Anniversaries can be an occasion for remembrance and celebration, but some recall only pain and regrets. Saturday marked two years since Kate Steinle was slain on a stroll with her father on the San Francisco waterfront by an illegal immigrant who had been deported five times. This is an anniversary marked by the passage, in the U.S. House of Representatives, of legislation called Kate's Law, to prevent such tragedies. No one gets a guarantee that life won't include a raw deal, but no one should be a victim to an uninvited and lawless "guest."
The House voted 257 to 157 to approve Kate's Law, which would increase jail time for illegal immigrants who have been deported and who sneak again into the United States. "He should not have been here, and she should not have died," House Speaker Paul Ryan said of Juan Francisco Lopez-Sanchez, scheduled for trial on July 14, and his 32-year-old victim.
The House further approved, by a vote of 228-195, the No Sanctuary for Criminals Act, which withholds federal grants from jurisdictions that violate federal law, the so-called sanctuary cities that forbid their police departments to co-operate with Immigration and Customs Enforcement officials. The act would protect jurisdictions that comply with federal immigration law from being sued for doing so, and enables victims of crimes to sue sanctuary cities that have unlawfully released illegal migrants into the community.
Open-borders activists are chagrined, pleading that such illegal migrants commit fewer crimes than native Americans. President Trump praised the House votes, tweeting, "Good news, House just passed #KatesLaw. Hopefully Senate will follow." Sadly, that's not likely, owing to resistance from Democrats, who count on the illegals becoming Democratic voters.
The influx of illegals, primarily from Latin American nations, has been underway for decades, with hundreds of thousands crossing the southern border with Mexico to search for jobs and to escape the Mexican drug wars. But it was during the Obama era of lax border enforcement and generous government benefits that the immigration wave became a tsunami.
Encouraged by utopian visions of a borderless uniculture, freed from traditional American values, liberals declared their cities, counties and even states to be sanctuaries above the law, dedicated to providing safe haven to the fresh arrivals. Popping up like mushrooms after a summer rain, the number of sanctuaries nationwide has been variously estimated to number between 300 and 500, including the entire states of California, New Mexico, Colorado and Connecticut.
A backlash was inevitable — not owing to nativism, as the immigration lobby insists — but due to the culture clash brought on by unassimilated legions, overcrowded and underfunded schools, and the steady stream of illegal migrants cruising the nation's highways with neither a driver's license nor liability insurance, but an abundance of booze. Even if, as immigration rights activists claim, the majority of foreigners in American communities are peace-loving, entering the United States without permission is still a crime. And so is the taking of a life, as Kate Steinle's life was taken, which would not have occurred but for the disrespect of U.S. immigration law. Americans should exact a price for such tragedies, from the politicians who protect the lawless at the expense of the law-abiding.
Source>http://www.washingtontimes.com/news/2017/jul/2/editorial-sanctuary-for-the-law-abiding/