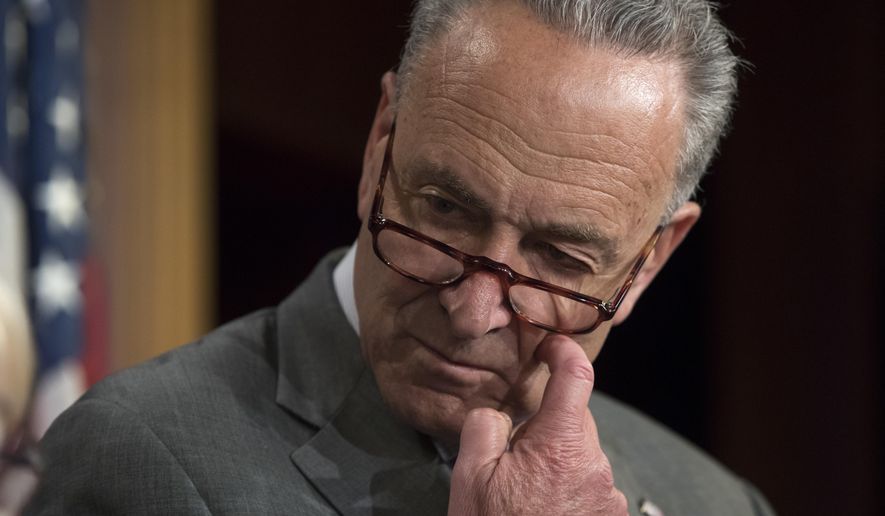 S.A. Miller
Senate Minority Leader Charles E. Schumer said Tuesday that President Trump's threat to let Obamacare collapse was actually an attempt to sabotage the country's health care system and use Americans as political pawns.
"The president would not be 'letting Obamacare collapse,'" said the New York Democrat. "He is actively trying to undermine the heath care system in the county, using millions of Americans as political pawns in cynical game."
He said the president was creating uncertainty that was undermining the health care system.
As he denounced the president, Mr. Schumer said Democrats were waiting for Senate Republicans to join them in a bipartisan effort to improve the Obamacare law.
"He wants to throw up his hands rather than roll up his sleeves to work with us and solve the problem," said the New York Democrat. "The president is playing a dangerous game with the health care of this country."
Earlier, Mr. Trump said that he was prepared to let Obamacare collapse in order to force Democrats to the negotiating table to craft a new health care law.
"I'm not going to own it," Mr. Trump said of the failing law.
However, Senate Republican leaders announced that they would be taking up a bill to repeal Obamacare over a two-year period, providing time to pass a replacement.
Mr. Schumer said Senate Republicans had to choose between following the president and joining with Democrats in an effort to help American families.
"They can follow the president down a path that will lead to higher premiums, less care and millions of Americans losing coverage," Mr. Schumer said. "They can join President Trump in trying to sabotage the system and hurt millions of innocent Americans to try to make a political point that its failed already, or they can start to work with Democrats."
Source>http://www.washingtontimes.com/news/2017/jul/18/chuck-schumer-blames-trump-obamacare-failure/