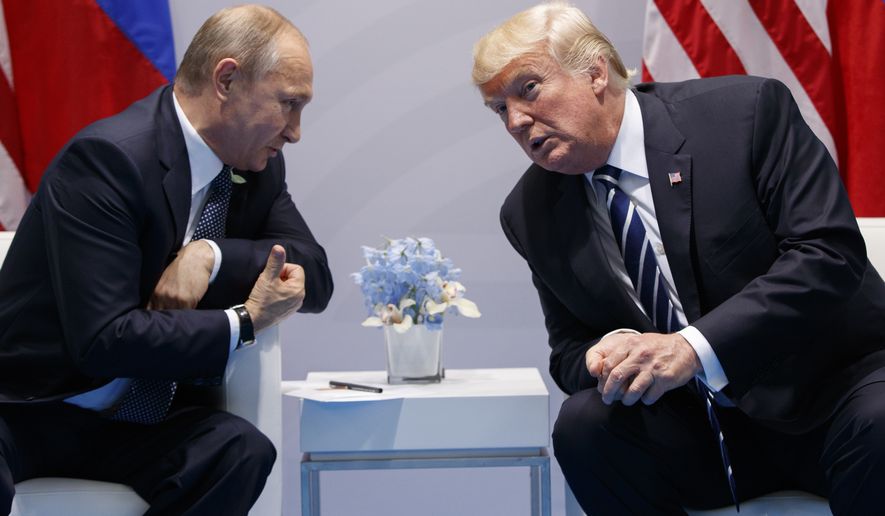 S.A. Miller
The U.S. and Russia struck a deal for a cease-fire in southwest Syria, according to reports, marking a major breakthrough in the six-year civil war as President Trump and Russian President Vladimir Putin held their first face-to-face meeting.
Details were sketchy but the cease-fire was scheduled to take effect Sunday at noon Damascus time, The Associated Press reported, citing U.S. officials.
The deal reflects a new level of involvement by the U.S. in Syria's civil war. Mr. Trump had previously stepped up U.S. actions with airstrikes against chemical weapon stashes of the Bashar al-Assad regime in Syria.
Jordan and Israel also are part of the agreement, according to the report. The two U.S. allies both share a border with the southern part of Syria and have been concerned about violence from Syria's civil war spilling over the border.
The deal is separate from "de-escalation zones" that were to be created under a deal brokered by Russia, Turkey and Iran earlier this year without U.S. participation.
Though U.S. and Russian officials had been discussing a potential deal for some time, it didn't reach fruition until the run-up to Trump's meeting with Putin on the sidelines of the Group of 20 economic summit in Germany, officials said.
Before Mr. Trump's meeting with Mr. Putin, Secretary of State Rex Tillerson signaled that Syria's civil war would be high on the agenda. He said in a statement before departing for Germany for the meeting that the U.S. remained open to cooperating with Russia through "joint mechanisms" to lower violence in Syria, potentially including no-fly zones.
Moscow reacted angrily when the U.S. downed a Syrian jet last week after it dropped bombs near the U.S.-backed Syrian Democratic Forces conducting operations against the Islamic State group. Russia warned its military would track aircraft from the U.S.-led coalition as potential targets over Syria and suspended a hotline intended to avoid midair incidents.
"If our two countries work together to establish stability on the ground, it will lay a foundation for progress on the settlement of Syria's political future," Mr. Tillerson said Wednesday.
The U.S. and Russia have been backing opposing sides in Syria's war, with Moscow supporting Syrian President Bashar Assad and Washington supporting rebels who have been fighting Mr. Assad. Both the U.S. and Russia oppose the Islamic State group in Syria.
The U.S. has been wary of letting Iran gain influence in Syria — a concern shared by Israel and Jordan, neither of which wants Iranian-aligned troops amassing near their territories. A U.S.-brokered deal could help the Trump administration retain more of a say over who fills the power vacuum left behind as the Islamic State is routed from additional territory in Syria.
Source>http://www.washingtontimes.com/news/2017/jul/7/us-russia-broker-cease-fire-syria-report/