Say it previews what would happen if members of president's family face legal action from Russian probe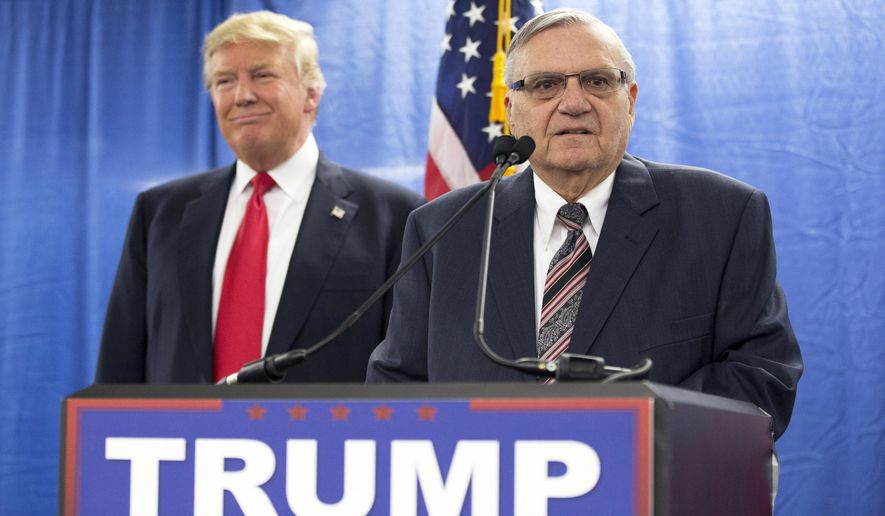 Seth McLaughlin
Democrats on Monday slammed the prospect of President Trump granting a pardon to former Maricopa County Sheriff Joe Arpaio, saying it would mark a win for "white supremacy" and set the stage for the commander-in-chief to use his constitutional power to keep his family out of legal trouble.
Rep. Ruben Gallego told reporters ahead of Mr. Trump's visit to Phoenix Tuesday the reasoning behind an Arpaio pardon would be two-fold: to placate the president's "very xenophobic, racist base" and give the public a preview of what would happen if members of his family face legal action as a result of Russian interference in the 2016 election.
"I would not be surprised if the president does this that it actually has nothing to do with Arpaio, but actually has to with him setting the standard of pardons, so he can eventually start pardoning his family and all of the people within his campaign that helped collaborate with the Russians," Mr. Gallego said.
"He is going to want to pardon his sons at one point or another," he said
Mr. Arpaio was convicted in June of contempt of court after a judge found that he willfully ignored another judge's 2011 order that he stop using traffic enforcement to target illegal immigrants, holding them for pickup by federal authorities.
Mr. Trump has since said he is "seriously considering" granting a pardon to Arpaio, an early supporter of his presidential campaign.
Source>http://www.washingtontimes.com/news/2017/aug/21/democrats-blast-any-joe-arpaio-pardon-ahead-trump-/