Ana Navarro Snaps during CNN Immigration TIRADE!
This is the type of minority racism that has been nurtured by the left. Vilifying an entire class of people using hate speech to pad your paycheck. Navarro like many other minority talking heads will never reach the status they desire...respect from those they hate.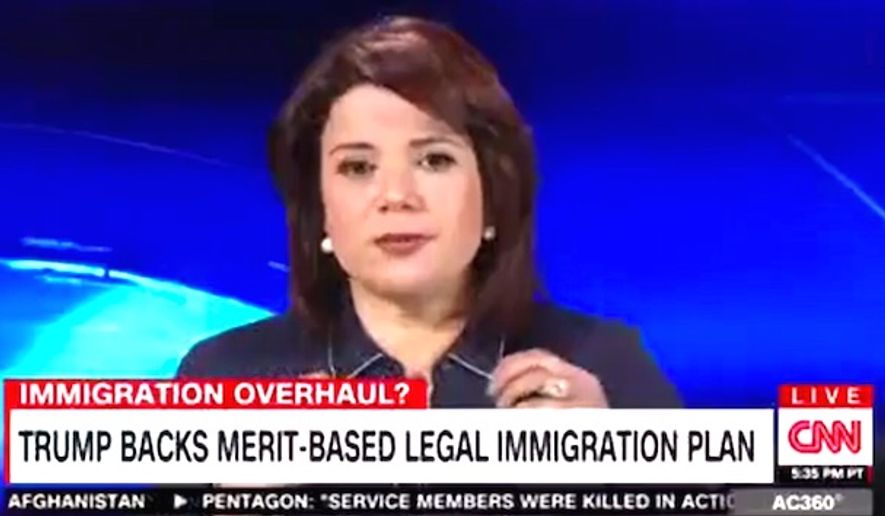 An immigration debate on "Anderson Cooper 360" Wednesday evening turned racial when Republican commentator Ana Navarro sought to counter guest Jeffrey Lord.
A CNN panel assembled to talk about President Trump's preferred immigration policy and the U.S. Senate's RAISE Act turned personal when Mr. Lord discussed the meaning of assimilation and Ms. Navarro's assertion that the president's plans are "un-American."
"My mother is Irish on her side of the family," Mr. Lord said. "So, you know, what, on Saint Patrick's Day I have corn beef and cabbage and maybe a green beer. Trust me, I'm not Irish, I'm an American. That's the point. There is no one in America whose an American citizen. Donald Trump. He's German. We have to move past this and not do a thing where we are in essence resegregating the country. That's a bad thing."
"It must be so nice to be a white male," a visibly upset Ms. Navarro countered, Real Clear Politics reported Thursday. "What makes us wonderful here in America is that I can go celebrate St. Patrick's Day and that you can celebrate Cinco de Mayo. […] America means loving your country. America means sacrificing for your country. […] It has nothing to do with culture."
Mr. Lord shook his head in confused manner and replied, "I more or less 100 percent agree with everything you just said. I'm not disagreeing with that. My concern is that we have with all this business of identifying communities […] that it keeps people from assimilating into the larger American culture."
At issue with lawmakers' bill is their desire to change the U.S. immigration system in a way that will attract a more highly skilled labor force.
"This competitive application process will favor applicants who can speak English, financially support themselves and their families and demonstrate skills that will contribute to our economy," Mr. Trump said Wednesday.
Source>http://www.washingtontimes.com/news/2017/aug/3/ana-navarro-snaps-during-cnn-immigration-debate-it/