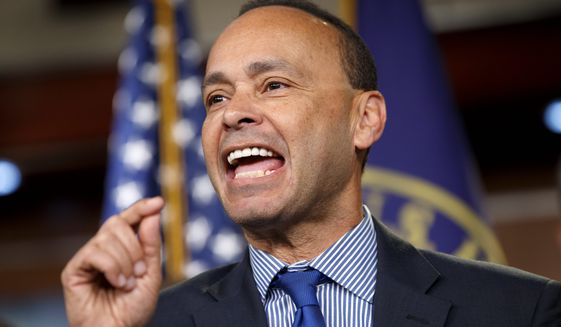 Stephen Dinan
A top Democrat said Tuesday that he will urge Democrats to withhold support for government funding, risking a government shutdown, unless Congress agrees to protect Dreamers from being deported now that the Obama-era amnesty has been revoked.
Rep. Luis V. Gutierrez, Illinois Democrat, said Dreamers need a "safe harbor" provision and if Republicans are counting on Democrats' voted to get a spending bill done by the end of this month, the GOP will have to accept protections.
"I have already spoken with members of the Congressional Hispanic Caucus (CHC) and will be talking to other Democrats in the House, but if Republicans need our votes, we need to have legislation to protect immigrant youth who have DACA," Mr. Gutierrez said.
It was the most pressing threat from Democrats, who reacted furiously to the Trump administration's decision to cancel the 2012 Deferred Action for Childhood Arrivals (DACA) program.
The Trump administration said DACA, announced by President Obama, could not be defended in court, and so instead of letting judges cancel it immediately, Homeland Security would carry out a six-month phaseout.
Nobody approved for DACA is in immediate danger of deportation unless they have serious criminal charges, but at the end of the phaseout their risk could increase.
House Speaker Paul D. Ryan said Tuesday that the Trump administration's phaseout was the right move, but puts pressure on himself and Republicans in Congress to act.
The Wisconsin Republican said Capitol Hill should be prepared to have a broad immigration debate that not only includes more permanent status for Dreamers, but also steps up enforcement to try to stop future waves of illegal immigration.
"It is my hope that the House and Senate, with the president's leadership, will be able to find consensus on a permanent solution that includes ensuring that those who have done nothing wrong can still contribute as a valued part of this great country," he said.
His call for a big immigration debate won't sit well with Democrats and immigrant-rights activists, who say the Dreamers should get a quick path to citizenship but who reject any new enforcement measures, such as President Trump's border wall proposal or stiffer checks to make sure businesses aren't hiring unauthorized migrants.
Congress has already tried a stand-alone bill to help out the Dreamers. In a lame-duck legislative session in 2010, a bill known as the Dream Act - where the term "Dreamers" comes from - passed the House but was derailed by a GOPfilibuster in the Senate.
Now many of those same Republicans will be called on to tackle the issue again.
Several Republicans have already offered Dream Act bills in this new Congress, and Democrats said they are ready to work on that legislation.
Source>http://www.washingtontimes.com/news/2017/sep/5/top-democrat-says-no-govt-funding-without-dreamer-/