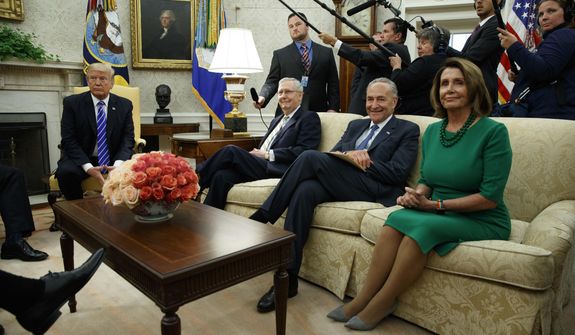 , , and
President Donald Trump's unexpected decision to spurn his Republican allies in Congress by striking a short-term debt-limit deal with Democrats leaves the GOP reeling and lawmakers bracing for a bruising battle in December.
Trump's move undercut GOP leaders in the House and Senate, as well as his own Treasury secretary, who had been arguing for a longer-term extension. It also left Republicans, who were blindsided by the deal, angry and disappointed with their own leaders and, to a lesser degree, Trump.
"Democrats got exactly what they wanted," House Freedom Caucus head Mark Meadows said, adding that the deal "gives them the greatest leverage in the world to get exactly what they want later."
During an Oval Office meeting Wednesday, Trump accepted a proposal by Senate Minority Leader Chuck Schumer and his House counterpart, Nancy Pelosi, to tie a three-month suspension of the debt limit to a Hurricane Harvey relief measure -- and throw in a stopgap continuing resolution to fund the government into December.
The episode provided the latest illustration of the bind Republicans find themselves in. Even though they control the White House and both chambers of Congress, they've been unable to set aside their own differences to get much done. Instead, this latest deal may have simply handed Democrats the upper hand heading into a confrontational end-of-the-year negotiation.
The agreement sets up what could be a major fight in December over government funding that is expected to include Trump's proposed border wall with Mexico and his decision to end a program that lets young undocumented immigrants stay in the U.S., as well as perhaps the debt ceiling.
House Speaker Paul Ryan, who was in the meeting with Trump, didn't see it coming. Hours before Trump's deal, he had told reporters that the Democratic proposal for a short-term debt limit deal would be "unworkable" and "ridiculous."
By late Wednesday, Senate Republicans released a new version of a Harvey aid bill that included the debt ceiling extension and would fund the government through Dec. 8. It also would nearly double the total disaster funding to $15.25 billion from what the House passed earlier in the day. The additional funding would go toward the Community Development Block Grant program to address housing needs in disaster zones.
Extraordinary Measures
The actual fight over the debt limit could slip into 2018, since the Treasury Department can usually deploy so-called extraordinary measures to extend its ability to operate. The drop-dead date could come as early as February if tax refund outlays are "relatively high," according to Jefferies economists Ward McCarthy and Thomas Simons.
Trump's deal with Democrats did soothe the most immediate concerns in the short-term Treasury market, with rates on Treasury bills maturing around the previous late-September debt-limit deadline plunging. But they surged on securities coming due around mid-December, suggesting Wall Street sees more legislative strife ahead.
"All this really means is that while it's unlikely the U.S. would ever default on Treasury bills, this move today just pushes this risk further out the curve," said Jerome Schneider, head of the short-term and funding desk at Pacific Investment Management Co., which manages $1.6 trillion in assets.
The White House tried to sell the deal as a way to "clear the decks" for a tax overhaul, as Trump's legislative director, Marc Short, put it to reporters.
Longer-term Treasuries also declined, suggesting investors saw better prospects that lawmakers will act on measures to spur economic growth.
"The market is pricing in less gridlock in Washington," said Alex Li, head of rates strategy at Credit Agricole. "The market seems to be suggesting that the administration and congressional leaders are more open now to get something done in terms of the legislative agenda," including addressing the nation's tax system.
But conservatives were fuming over the deal, with one senior Republican aide saying that the deal undercut GOP leaders and bolstered the power of Democrats in Congress.
Asked about the compromise, Freedom Caucus member Ted Yoho of Florida said sarcastically, "It's great to be in the majority."
'Deal is Bad'
"The Pelosi-Schumer-Trump deal is bad," Republican Senator Ben Sasse of Nebraska said in a statement.
Trump himself might have agreed, at least back in 2013 when he was still considering a run for the White House. He wrote on Twitter then, "The worst negotiators in history (otherwise known as Republicans) have just offered to suspend debt ceiling for four months. Pathetic!"
Senate Majority Leader Mitch McConnell tried to put the best face on the deal while noting that Trump cut it with Democratic leaders.
"The president can speak for himself," McConnell told reporters. "But his feeling was that we needed to come together, to not create a picture of divisiveness at a time of genuine national crisis."
Congress is rushing to pass Hurricane Harvey relief funds by the end of the week because the Federal Emergency Management Agency's disaster-relief fund is set to run out of money Friday as a more powerful storm, Hurricane Irma, bears down on Florida.
The House voted 419-3 on Wednesday to pass $7.85 billion to provide relief to tens of thousands of homeowners from flooding caused by Harvey in Texas and other parts of the Gulf Coast. The measure includes $7.4 billion in FEMA disaster funds and $450 million for the Small Business Administration. Additional FEMA funding is to be provided later, according to House aides.
Shortly after the vote, Trump and Treasury Secretary Steven Mnuchin met with Republican and Democratic congressional leaders at the White House. McConnell, Ryan and Mnuchin pushed for adding a debt-limit extension of as long as 18 months to the Harvey bill, according to several people with knowledge of the discussion. A three-month debt-limit deal was the last thing Mnuchin wanted, an administration official said.
But Trump said he wanted a deal, and he accepted the Democrats' offer of a three-month debt-limit measure, one person said. At that point, McConnell stepped in to say a short-term government spending bill should also be added.
Several leaders of conservative groups said they blamed Republican leaders, not Trump, for the deal to add the debt-limit and spending measures to the House bill. They said McConnell and Ryan hadn't been able to push forward a conservative plan to raise the debt limit in a measure that cut spending.
"This is going to be very bad for our common goal of fundamental tax reform," Adam Brandon, president of the conservative FreedomWorks group, told reporters in a conference call. "This deal is straight out of the swamp."
'Taken Aback'
"I'm a little taken aback by it," said Representative Mark Walker, the North Carolina Republican who chairs the Republican Study Committee. "Usually you get a heads up" on a major policy decision.
Asked if this deal undercuts Republican leadership's ability to negotiate with Democrats, Walker replied, "It does."
Walker said he will present a letter to Ryan on Thursday with a list of policy suggestions that would get more Republicans to support a debt limit deal. It will contain 19 specific suggestions, he said.
Republicans appeared resigned to the notion that the combined measure would likely pass both chambers of Congress, carried by Democratic votes. But a number of Republicans said they would vote against it.
The attempt to tie the Harvey aid passed in the House to the debt limit "is a poison pill & a disservice to those who are suffering," Representative Richard Hudson of North Carolina tweeted. He said the Senate should pass the House measure without adding more provisions.
FAA and Flood Insurance
The deal still left out a few key priorities that Congress will have to address by the end of the month. Lawmakers still need to pass an authorization for the Federal Aviation Administration so that it can keep operating after Sept. 30. They also have to pass a renewal of the nation's flood insurance program, a high priority in the wake of Hurricane Harvey and Hurricane Irma.
Democrats, for their part, luxuriated in the unexpected win.
"Today was a good day in a generally very partisan town," Schumer told reporters. "And let's hope we can continue to work together for the good of Americans, for the good of the working families who so much need our help."
Source>https://www.bloomberg.com/news/articles/2017-09-07/trump-s-surprise-deal-with-democrats-sets-up-christmas-showdown