'None of this is Logic-Based'
'The left wants to continue dealing with everything emotionally'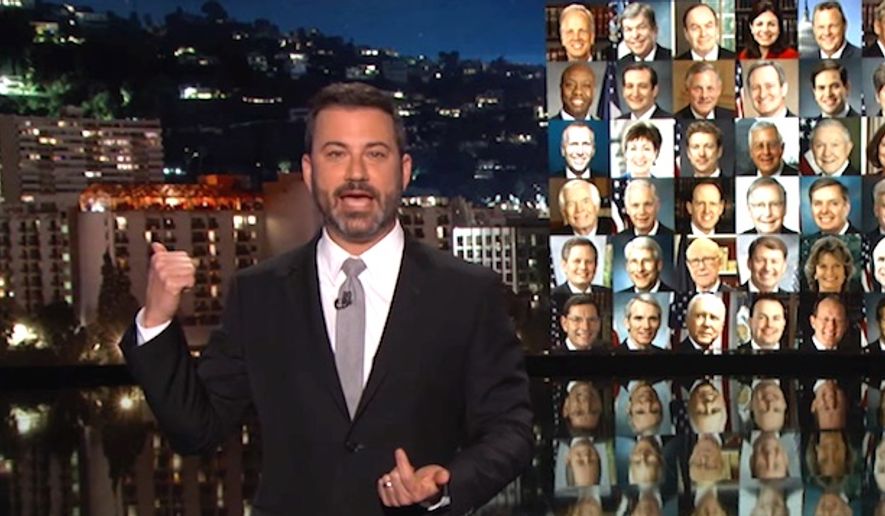 Douglas Ernst
Radio host Rush Limbaugh told his millions of listeners Tuesday to get ready for an "emotional onslaught" by late-night comedians and liberal activists aimed at eroding Second Amendment rights.
Liberal lawmakers, celebrities like ABC's Jimmy Kimmel, and their media peers were the focus of conversation this week on "The Rush Limbaugh Show" as the host discussed Sunday's massacre in Las Vegas by gunman Stephen Paddock. Mr. Limbaugh said it was no coincidence that crying comedians are lecturing viewers on public policy issues.
"We're now into that area … where facts do not matter," the conservative host said. "They never matter to the left. But the danger is that the whole thing has become an emotional issue. You can't blame people for reacting to this emotionally, but reacting to it emotionally and dealing with it emotionally are two different things. The left wants to continue dealing with everything emotionally so that facts and reality can be ignored."
Mr. Limbaugh then focused on Mr. Kimmel, who went into a nearly 10-minute monologue Monday evening in which he said lawmakers seemingly "don't care" about gun deaths.
The "Jimmy Kimmel Live" host's voice often wavered, as it did during previous addresses on health care reform.
"None of this is fact-based, none of this is logic-based reasoning," Mr. Limbaugh said. "In fact, no reasoning at all matters. It will not hold up against the emotional onslaught. Late-night comedians are now practically crying. You know, once Jimmy Kimmel got some fame and notoriety for his expertise in health care, all the other late-night comics are trying to get in on the act. And now last night all became experts on gun control and murder and crying. And it's just part of the onslaught that we are facing now."
Stephen Paddock "killed 59, wounded 500 others," the host continued. "What law can we pass that would have stopped him? Well, maybe security checks at hotels, but that's not a gun control law. I'm asking what new law on guns could we pass that would have stopped Mr. Paddock from getting his weapons and firing? Everything he did is already illegal. So the left's out calling for new gun laws, but there's not a single new law that would have changed what happened. There's not a single new law affecting, impacting guns that would have changed what happened. As I said, there have only been three mass shootings, three crimes since 1934 to have used fully automatic firearms."
Mr. Paddock's rampage from the 32nd-floor window of the Mandalay Bay Hotel killed at least 59 people at an outdoor concert and wounded more than 500 others.
Authorities are still trying to determine the suspect's exact motives. The 64-year-old killed himself as police stormed his room.
Source>http://www.washingtontimes.com/news/2017/oct/3/rush-limbaugh-rips-jimmy-kimmel-crying-experts-tal/