This Island Paradise has been misgoverned by its own people. Even with massive infusions of Federal cash this Island of Social Benefits let the Island collapse through Corruption. Fix them and give them Independence!
...tmiraldi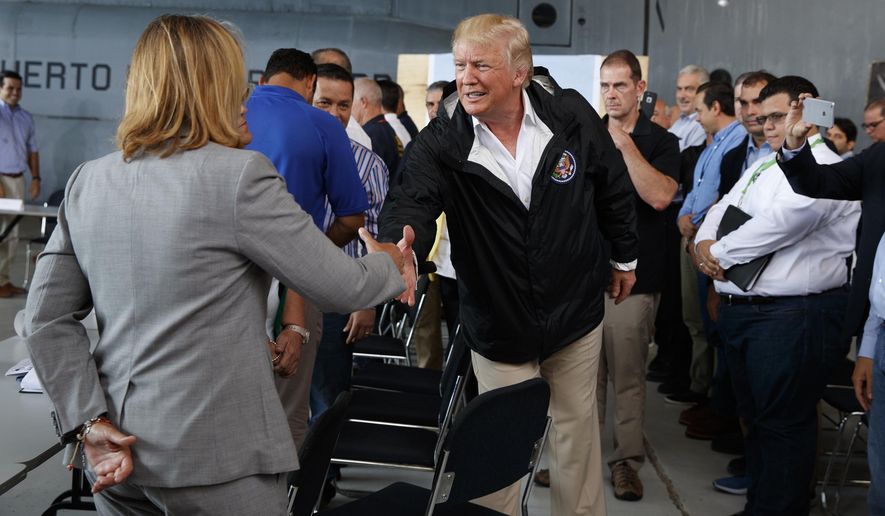 Stephen Dinan
The Puerto Rican mayor who's been feuding with President Trump lashed out again Thursday, accusing him of "genocide" for not doing more to support the recovery efforts in the island territory.
Carmen Yulin Cruz, mayor of San Juan, issued the startling accusation in a text message sent to Rep. Luis V. Gutierrez, an Illinois Democrat of Puerto Rican heritage who has been pleading for more help for the island in the wake of two hurricanes.
"I ask every American that has love, and not hate in their hearts, to stand with Puerto Rico and let this President know we WILL NOT BE LEFT TO DIE," the mayor said in the statement, which she asked Mr. Gutierrez to read on the House floor or at a press conference.
"I ask the United Nations, UNICEF and the world to stand with the people of Puerto Rico and stop the genocide that will result from the lack of appropriate action of a President that just does not get it because he has been incapable of looking in our eyes and seeing the pride that burns fiercely in our hearts and souls," the mayor continued.
She and Mr. Trump have been feuding for weeks, with the president saying the federal government is fully invested, and saying the hurdles to recovery are on the island itself.
Earlier Thursday Mr. Trump, in a Twitter post, warned that federal help couldn't go on indefinitely.
The mayor, though, has asked for more, and accused the president of getting snared in legal restrictions such as needing to have Puerto Rican authorities ask for certain assistance.
Congress is speeding more disaster relief money, rushing to pass a $37.7 billion measure to replenish Federal Emergency Management Agency disaster funds and boost other loan programs that help communities recover.
A vote in the House was slated for Thursday afternoon, with the Senate expected to act next week, when it returns from a week-long vacation.
Source>http://www.washingtontimes.com/news/2017/oct/12/san-juan-mayor-accuses-trump-genocide-hurricane/