The search for truth has suffered, with the imposition of truth-by-censors replacing it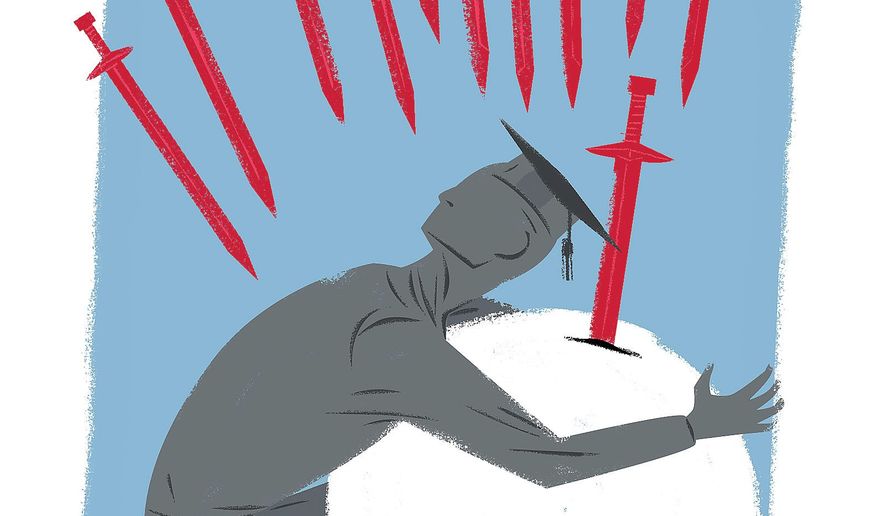 Illustration on protecting freedom of thought and speech on college campuses by Linas Garsys
Jeff Sessions
Freedom of thought and speech on the American campus are under attack.
The American university was once the center of academic freedom — a place of robust debate, a forum for the competition of ideas. But it is transforming into an echo chamber of political correctness and homogenous thought, a shelter for fragile egos.
According to one survey of 450 American colleges and universities, one-third of public schools surveyed — which are subject to the First Amendment — had written policies banning disfavored speech.
At Clemson, the Student Code bans any act that creates an "offensive educational, work or living environment." But who decides what is offensive and what is acceptable? Our universities are about the search for truth, not the imposition of truth by a government censor.
In addition to written speech codes, many colleges now deign to "tolerate" free speech only in certain, geographically limited, "free speech zones." A study by the Foundation for Individual Rights in Education found that one in 10 schools have policies limiting speech to small or out-of-the-way areas on campus.
College administrators also have silenced speech by permitting "the heckler's veto" to control who gets to speak and what messages are conveyed. In these instances, administrators discourage or prohibit speech if there is even a threat that it will be met with protest. In other words, the school favors the heckler's disruptive tactics over the speaker's First Amendment rights.
Just over a week ago, after the Orwellian-named "anti-fascist" protesters had successfully shut down numerous campus speaker events in recent months with violent riots, Berkeley was reportedly forced to spend more than $600,000 and have an overwhelming police presence simply to prove that the mob was not in control of the campus.
In advance, the school offered "counseling" to any students or faculty whose "sense of safety or belonging" was threatened by a speech from Ben Shapiro — a 33-year-old Harvard trained lawyer who has been frequently targeted by anti-Semites for his Jewish faith and who vigorously condemns hate speech on both the left and right.
In the end, Mr. Shapiro spoke to a packed house. And to my knowledge, no one fainted, no one was unsafe. And I certainly hope no one needed counseling.
Yet, this is where the next generation of Americans are equipped to contribute to and live in a diverse and free society filled with many, often contrary, voices.
Our legal heritage, upon which the Founders crafted the Bill of Rights, taught that reason and knowledge produced the closest approximation to truth — and from truth may arise justice. But reason requires discourse and, frequently, argument. And that is why the free speech guarantee is found not just in the First Amendment, but also permeates our institutions, our traditions, and our Constitution.
The Federalists against the anti-Federalists, Abraham Lincoln against Stephen Douglas, Dr. Martin Luther King Jr. against George Wallace. At so many times in our history as a people, it was speech — and still more speech — that led Americans to a more just, more perfect union.
A national recommitment to free speech on campus is long overdue. And action to ensure First Amendment rights is overdue.
Starting this week, the Department of Justice will do its part in this struggle. We will enforce federal law, defend free speech, and protect students' free expression from whatever end of the political spectrum it may come.
To that end, we are filing a Statement of Interest in a campus free speech case to challenge a policy at Georgia Gwinnett College that limited student expressive activity to two small "free-speech zones" that totaled 0.0015 percent of the campus. These students were also required to obtain prior authorization from campus officials, to limit their expressive activity to a specified date and time, and to comply with the Student Code of Conduct's prohibition of speech that "disturbs the comfort of person(s). This is not right. This is not in the great tradition of America. The Department of Justice has a responsibility to protect the civil rights of all Americans and we will be doing more on these issues in the weeks and months to come.
This month, we marked the 230th anniversary of our Constitution. This month, we also marked the 54th anniversary of the 16th Street Baptist Church bombing in Birmingham. Four little girls died that day as they changed into their choir robes because the Klan wanted to silence the voices fighting for civil rights. But their voices were not silenced.
The Rev. Martin Luther King Jr. would call them "the martyred heroines of a holy crusade for freedom and human dignity," in a eulogy that still should speak to us today. This is the true legacy of free speech that has been handed down to us. It was bought with a price.
We have staked a country on the principle that robust and even contentious debate is how we discover truth and resolve the most intractable problems before us. This is the heritage that we have been given and which we must protect.
Source>http://www.washingtontimes.com/news/2017/oct/1/colleges-are-politically-correct-and-lack-debate/