The states show how the Trump tax cut will work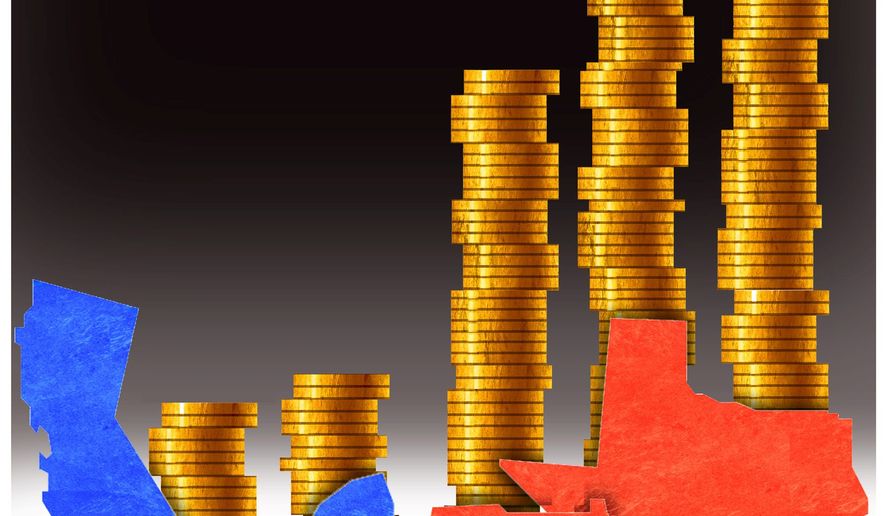 Illustration on the success of Trumponomics in red states by Alexander Hunter
Stephen Moore and Arthur Laffer
ANALYSIS/OPINION:
One reason the two of us were so confident that President Trump's economic policies would be positive for workers, the economy and the stock market, is that we've seen first-hand these policies work in the states. Many liberal economists have been insisting that Mr. Trump's promise of a 3 or 4 percent growth is a fantasy and that 2 percent growth is the best we can do.
But many red states that have already adopted Trumponomics have already been growing much faster than that. These include states — like Florida, North Carolina, Tennessee, Texas and Utah. Meanwhile, states like New York, New Jersey. Illinois and Rhode Island — to name a few — that have followed the liberal play book on taxes, regulation, energy, and labor policies right — continue to struggle.
That is because the states compete with one another. This competition is becoming more intense as businesses become more mobile. Toyota and Boeing are two high-profile employers in America that have crossed state borders because of the policy advantages of one state over another.
Toyota moved from high-income-tax California to no-income-tax Texas, and Boeing, based in Washington, a forced-union state, opened a new plant in South Carolina, which has a right-to-work law.
In Connecticut things have gotten so bad with multiple tax hikes in recent years that General Electric moved its headquarters to Boston to get away from the tax, spend and borrow cycle in Hartford. It's pretty dire in Connecticut when businesses move to Massachusetts for a more business-friendly environment.
We have 10 and 20 and 30 years of statistical evidence that low tax and lighter regulation states have been growing a lot faster than those that try to tax and regulate their way to prosperity. Our favorite example is Texas. The Lone Star state has no income tax, aggressively pursues pro-growth energy policies, and is a right-to-work state.
Amazingly, from 2007 to 2013, more jobs were created in Texas than in all the other 49 states combined. How did that happen? Pro-growth policies — the kind that Mr. Trump wants — that are pro-business and pro-worker.
In our new book with Rex Sinquefield and Travis Brown, "The Wealth of States: Volume 2," we measured just how much these policy differentials matter. Taxes have an enormous impact on where the jobs go. We found, for example, that the lowest tax states consistently had more economic and job growth across the board than the highest tax states. Incredibly, the nine highest personal income tax states in total lost an average of almost 1,000 residents on net every day of the year.
The pro-growth states also had double the pace of jobs than the highest tax states like New York and New Jersey and California. And most amazing, total income growth — a good proxy for the pace of economic progress — was consistently 20 to 30 percent higher in the low tax states.
Of course not all low-tax states — Mississippi and Kansas, for example — grow faster and some high tax states like Massachusetts grow faster than expected. But the statistical results are irrefutable: tax and regulatory cutting states get more growth over time.
This suggests that if the federal government could implement "red state" policies nationally, the growth rate would grow at least one half percentage points per year faster. And because the federal government's spending, taxing and regulatory authority is about three times more impactful than that of the states — for example, the highest federal income tax is 39.6 percent versus a high of just above 13 percent in California — the results from getting federal policies aligned with growth could be much more powerfully felt.
Imagine for a moment that the federal government adopted the economic model of a high-growth state like Texas — and moved away from the economic model of New York and New Jersey. Could the Trump goal of 3 to 4 percent be sustained for a number of years. We look at the boom in Florida, Texas and Tennessee and ask: why not this for the whole nation?
Source>http://www.washingtontimes.com/news/2017/oct/22/trump-tax-cuts-will-work-if-given-time/