Say his soft approach to Russian President Valdimir Putin is 'astounding' and 'naive'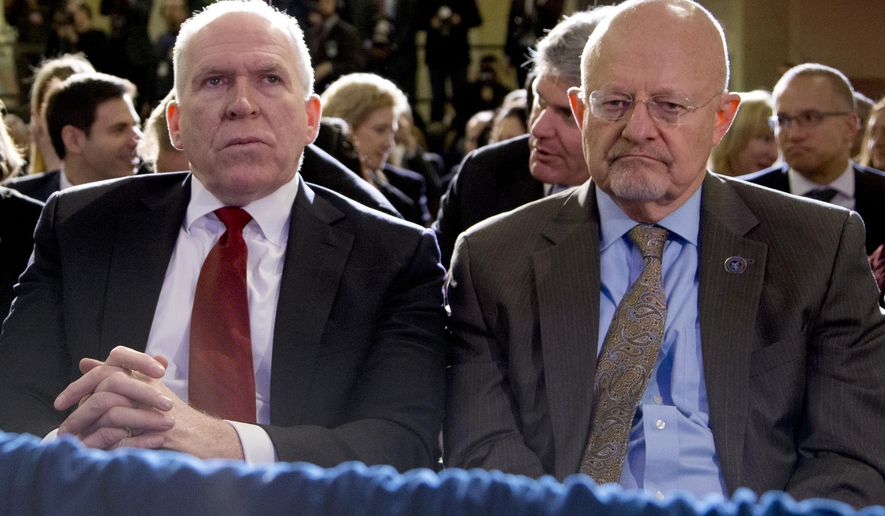 Tom Howell Jr.
Former intelligence chiefs said Sunday it is "astounding" that President Trump refuses to forcefully condemn Russian President Vladimir Putin over findings that Moscow interfered in last year's election.
James Clapper, the former director of national intelligence, said the threat posed by Russia is "manifest and obvious and has been for a long time."
"To try to paint it in any other way is astounding and poses a peril," Mr. Clapper told CNN's "State of the Union."
Mr. Trump raised eyebrows over the weekend by saying he believes Mr. Putin is "sincere" in his denials of interference, though he later clarified he believes the assessment of U.S. intelligence agencies that Russia meddled in last year's presidential election.
Mr. Trump also lashed out on Twitter against the "haters," saying Russia can be a valuable partner in fighting terrorism and solving problems in Ukraine, Syria and North Korea.
Mr. Clapper said that might be true in theory, but that Mr. Trump shouldn't bank on it.
"I think it's very naive and in fact perilous to this country to make an assumption that Russia is going to behave with the best interest of the world or certainly the United States. They're not," Mr. Clapper said.
On Saturday, Mr. Trump labeled the former heads of the FBI, the CIA and the Office of the Director of National Intelligence as "hacks" whose judgment he questioned on the matter of Russian meddling.
The president, who now has new people heading all three agencies, said Sunday that he has worked "very strongly" with the new leadership in U.S. intelligence.
The CIA and other U.S. intelligence agencies have concluded that Russia meddled in the 2016 election to help Mr. Trump defeat Democrat Hillary Clinton. A special counsel's examination of potential collusion between Moscow and Trump campaign aides so far has led to indictments against Trump's former campaign chairman and another top aide for crimes unrelated to the campaign, and a guilty plea from a Trump foreign policy adviser.
Mr. Clapper and former CIA Director John Brennan said Mr. Trump's soft approach to Mr. Putin, despite the findings, sends the wrong signal to professional intelligence officers and signals to world leaders that they can "play" him.
"It's still puzzling as to why Mr. Trump does not acknowledge that embrace it and push back hard on Mr. Putin," Mr. Brennan told CNN.
The two former chiefs signaled their alarm with the president's behavior, generally. They said he seemed susceptible to flattery by foreign governments who roll out military guards and pomp and circumstance for his visits.
They also defended each other.
Mr. Brennan took particular exception to Mr. Trump criticizing Mr. Clapper, who had a lengthy military career, on Veterans Day, saying he should "be ashamed of" it.
Source>https://www.washingtontimes.com/news/2017/nov/12/former-intel-chiefs-brennan-clapper-unload-on-pres/