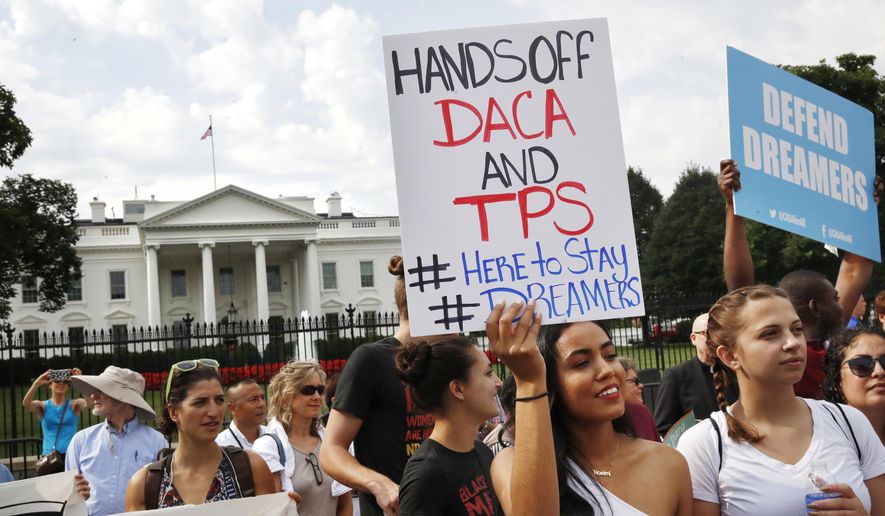 In this Sept. 5, 2017, file photo, Yurexi Quinones, 24, of Manassas, Va., a college student who is studying social work and a recipient of Deferred Action for Childhood Arrivals, known as DACA, rallies next to Ana Rice, 18, of Manassas, Va., far right, in support of DACA, outside of the White House in Washington. (AP Photo/Jacquelyn Martin, File)
Stephen Dinan
The new GOP tax overhaul would strip illegal immigrants of the ability to claim several major tax credits, saving the government $23.1 billion over the next decade, according to the bill's authors.
For years Republicans have complained that despite a general ban on taxpayer benefits flowing to illegal immigrants, the IRS has allowed them to collect the child tax credit, the American Opportunity Tax Credit and the Earned Income Tax Credit.
Efforts to shut down those claims have been tried in the House but have never cleared Congress.
But the new tax overhaul tries again, calling for taxpayers to have to submit work-eligible Social Security numbers in order to claim the credits.
Immigrant-rights advocates have complained about attempts to close the tax credits in the past.
In the case of the child tax credit, activists say that while the parents may be in the country illegally, their children are often U.S. citizens who deserve the credit.
Many illegal immigrants pay taxes using Individual Taxpayer Identification Numbers, which the IRS issues to those who aren't authorized to work in the U.S., but whom the government still wants to pony up to Uncle Sam.
The IRS pays out billions of dollars a year in tax credits to people filing using ITINs each year, according to the agency's inspector general.
The inspector general has repeatedly urged the IRS to stop making the payments, but the agency has refused, saying it interprets the law related to those tax credits to cover illegal immigrants as well as other taxpayers.
Source>http://www.washingtontimes.com/news/2017/nov/2/gops-tax-bill-cancels-23-billion-credits-illegals/