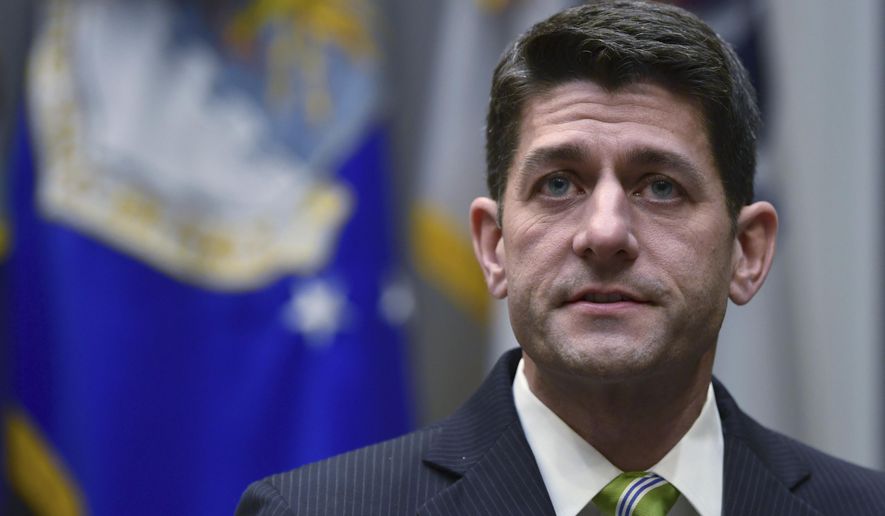 Stephen Dinan
House Speaker Paul D. Ryan said Thursday that Democrats squandered their ability to demand a so-called "DACA fix" as part of the year-end spending bill when their leaders refused to show up for a meeting with President Trump this week to conduct negotiations.
Mr. Ryan also rejected the year-end deadline Democrats have set up for granting citizenship to illegal immigrants, saying the phaseout for the Obama-era deportation amnesty runs through March, giving Congress until next year to figure out what to do.
He took a tough line on Democrats' decision to ditch Mr. Trump in a bipartisan leaders meeting Tuesday, saying that if Democrats had been serious about wanting to protect those in the Deferred Action for Childhood Arrivals program, then they would have come to the meeting to defend them.
"You've got to show up if you want to make your point," he said. "I don't think Ds are in a very good position to be making demands if they're not even going to participate in the negotiations."
Mr. Ryan said a short-term bill will be needed to keep the government funded beyond the Dec. 8 expiration of current government funding.
Without new funding, the government would go into a partial shutdown.
Mr. Ryan said the length of the new bill, known in Washington as a "continuing resolution" or "CR," is still being negotiated.
It's unclear, though, whether such measure could pass without including provisions dealing with Dreamers.
Many Democrats have said they won't lend support to any bill that doesn't accommodate the Dreamers — the nearly 2 million illegal immigrants who came to the U.S. as children.
"Democrats are not going to help them on any of these issues unless we have a DACA fix," said Rep. Michelle Lujan Grisham, New Mexico Democrat and chair of the Congressional Hispanic Caucus.
SOURCE>https://www.washingtontimes.com/news/2017/nov/30/paul-ryan-says-dems-blew-daca-negotiations-skippin/