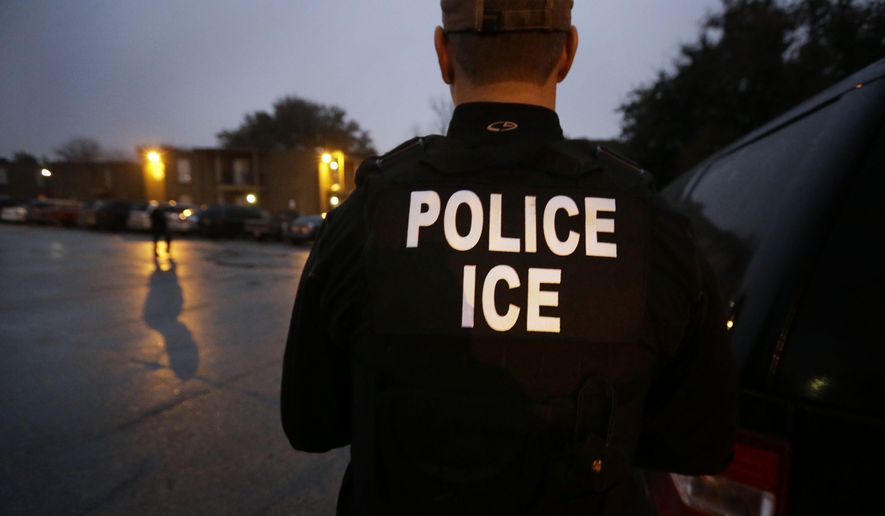 S.A. Miller
Illegal border crossing plunged to a 45-year low and arrests of illegal immigrants inside the U.S. surged in the first year of the Trump administration, according to year-end enforcement numbers that the Department of Homeland Security released Tuesday.
The figures reflected a stunning turnaround in immigration enforcement under President Trump, who made combating illegal immigration a cornerstone of his campaign for the White House.
U.S. Customs and Border Protection reported 310,531 apprehensions nationwide in fiscal 2017 that ended Sept. 30, a decline of 25 percent from a year earlier and the lowest level since 1971.
A total of 303,916 of Border Patrol arrests were along the Southwest border, which the agency said underscored the need for a border wall that Mr. Trump wants to build.
At the same time, U.S. Immigration and Customs Enforcement agents arrested 143,470 illegal immigrants living in America, a 25 percent increase from the previous year.
Acting Homeland Security Secretary Elaine Duke credits Mr. Trump with reversing the policies of the Obama administration to unleash enforcement of immigration laws.
"We have clearly seen the successful results of the President's commitment to supporting the front line officers and agents of DHS as they enforce the law and secure our borders," she said. "We have an obligation to uphold the integrity of our immigration system, but we must do more to step up and close loopholes to protect the American worker, our economy and our communities."
Jessica M. Vaughan, the director of policy studies at the Center for Immigration Studies, a Washington think tank, agreed.
"It is that simple," she said. "The Obama administration had a deliberate policies to restrict immigration enforcement to only the most egregious cases. We saw a decades-long low particularly in interior enforcement."
The lack of enforcement enticed more people to illegally cross the border, but the Trump administration early on changed that calculation, Ms. Vaughn said.
"I'm very encouraged by these statistics," she said. "They really picked up the pace of criminal removals and they are going after gang members, because that is such a big problem in certain communities, because of the lack of border security. They also are going after fugitives, people who have had their day in court, ignored removal orders and have stayed here. That was a big group of people that the Obama administration ignored. And the same is true of people who have been deported multiple times before."
Source>https://www.washingtontimes.com/news/2017/dec/5/border-crossings-hit-45-year-low-under-trump/