'Our cities should be sanctuaries for Americans —
Not for Criminal Aliens'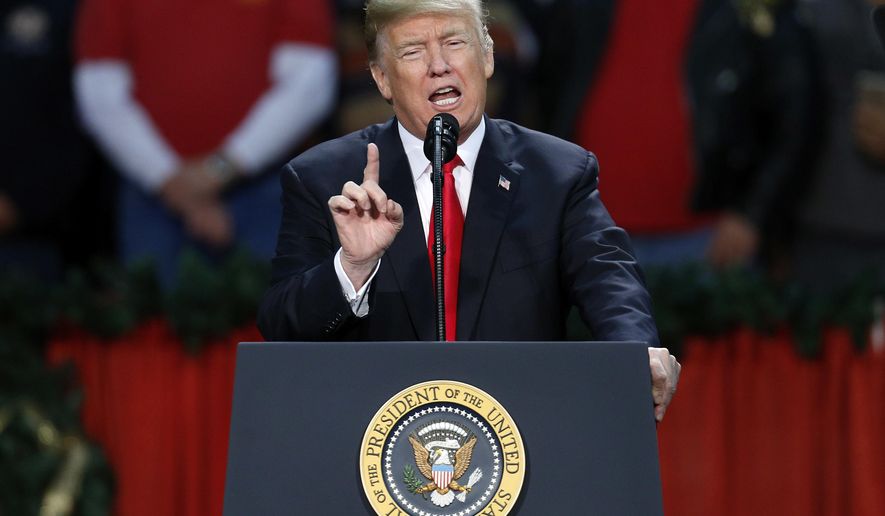 Dave Boyer
President Trump pressured congressional Democrats Saturday to drop their demands for amnesty for young illegal immigrants as part of a year-end spending deal, saying their insistence on protecting illegals is part of a liberal mindset that led to the death of Kate Steinle in San Francisco.
"Unfortunately, Democrats in Congress not only oppose our efforts to stop illegal immigration and crack down on sanctuary cities," Mr. Trump said in his weekly address. "Now they are demanding amnesty as a condition for funding the government, holding troop funding hostage and putting our national security at risk. We cannot allow it."
Mr. Trump signed a temporary spending bill Friday that will keep the government operating through Dec. 22. But Congress and the White House still must agree on a longer-term spending deal, and Democrats such as House Minority Leader Nancy Pelosi of California insist that an agreement must include a solution to extend deportation amnesty for some 800,000 young illegal immigrants known as "Dreamers."
The White House and congressional Republicans want any immigration fix to be separate from a spending bill to keep the government operating into the new year. Mr. Trump said every lawmaker "will have to make a choice."
"Do they want to protect American citizens or do they want to protect criminal aliens?" he asked. "Reasonable people can disagree on many things, but there can be no disagreement that the first duty of government is to serve, protect, and defend American citizens."
The president pointed to the July 2015 death of Ms. Steinle, who was shot and killed by an illegal immigrant who had been deported five times and was living in San Francisco, a sanctuary city for illegals.
"Kate's death is a tragedy that was entirely preventable," Mr. Trump said. "She was shot by an illegal alien and a 7-time convicted felon who had been deported five times – but he was free to harm an innocent American because our leaders refused to protect our border, and because San Francisco is a sanctuary city."
"In sanctuary states and cities, innocent Americans are at the mercy of criminal aliens because state and local officials defy federal authorities and obstruct the enforcement of our immigration laws," he added.
A jury two weeks ago found illegal immigrant Jose Ines Garcia Zarate, 45, not guilty of murder and involuntary manslaughter charges. Jurors convicted the Mexican citizen of being a felon in possession of a firearm.
The president said the verdict is "one more reason Americans are so upset by sanctuary cities and open border politicians who shield criminal aliens from federal law enforcement and all of the problems involved with the whole concept of a sanctuary city."
"They're no good. We mourn for all of the American families, of all backgrounds, who will have any empty seat at Christmas this year because our immigration laws were not enforced," the president said. "No American should be separated from their loved ones because of preventable crime committed by those illegally in our country. Our cities should be sanctuaries for Americans —not for criminal aliens."
In September, Mr. Trump terminated the amnesty program begun by former President Barack Obama known as Deferred Action for Childhood Arrivals, or DACA, giving Congress six months to come up with a new plan for those immigrants who were brought to the U.S. illegally by their parents.
As part of a long-range spending deal, Democrats want a solution to DACA as well as higher domestic spending. The White House has emphasized higher military spending and wants to separate immigration issues from a budget deal.
Rep. Mark Meadows, North Carolina Republican and head of the conservative House Freedom Caucus, is opposed to adding any protected status for illegal immigrants to the spending bill.
Senate Judiciary Committee Chairman Charles Grassley, Iowa Republican, introduced legislation Wednesday that would extend temporary protection for young illegal immigrants for three years. The legislation also calls for strengthening border protection and would reduce federal funding for sanctuary cities that refuse to enforce federal immigration law.
SOURCE>https://www.washingtontimes.com/news/2017/dec/9/trump-accuses-democrats-endangering-us-citizens/