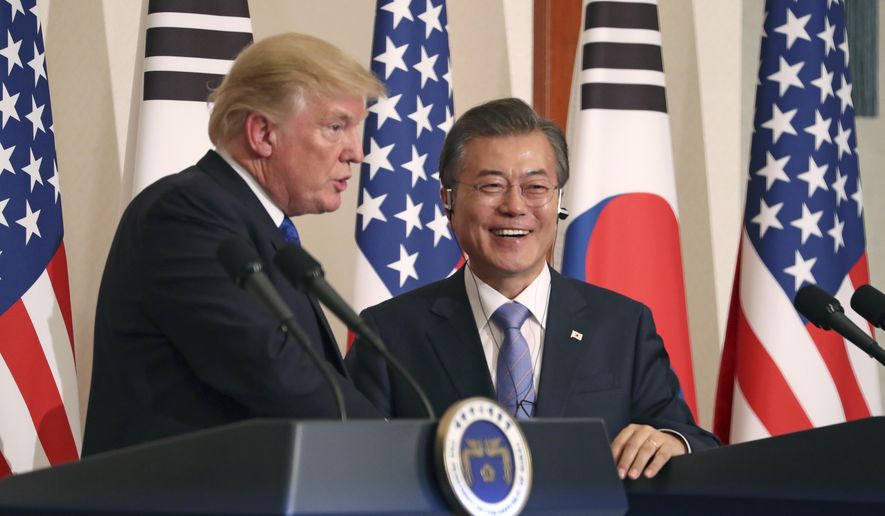 President Donald Trump, left, speaks as South Korean President Moon Jae-in looks on during a joint news conference at the Blue House in Seoul, South Korea, Tuesday, Nov. 7, 2017. (AP Photo/Andrew Harnik)
Dave Boyer
South Korea's president said Wednesday that President Trump, "deserves big credit" for talks between South and North Korea.
"It could be a resulting work of the U.S.-led sanctions and pressure," President Moon Jae-in told reporters. "I think President Trump deserves big credit for bringing about the inter-Korean talks.
The talks, held on Tuesday, were the first in two years, and North Korea announced that it would send a delegation to the Olympics in Pyeongchang next month.
Mr. Moon said he wanted to show Mr. Trump his gratitude.
Mr. Trump tweeted last week that he believes his pressure on Pyongyang has produced results.
"Does anybody really believe that talks and dialogue would be going on between North and South Korea right now if I wasn't firm, strong and willing to commit our total 'might' against the North," the president tweeted, adding that "talks are a good thing!"
Mr. Trump has raised the pressure on North Korea for the past year, pressing China to isolate Pyongyang economically and diplomatically. He also has imposed new U.S. sanctions and gained new U.N. sanctions against North Korea over its nuclear and intercontinental ballistic missile programs.
Source>https://www.washingtontimes.com/news/2018/jan/10/moon-jae-south-koreas-president-credits-donald-tru/