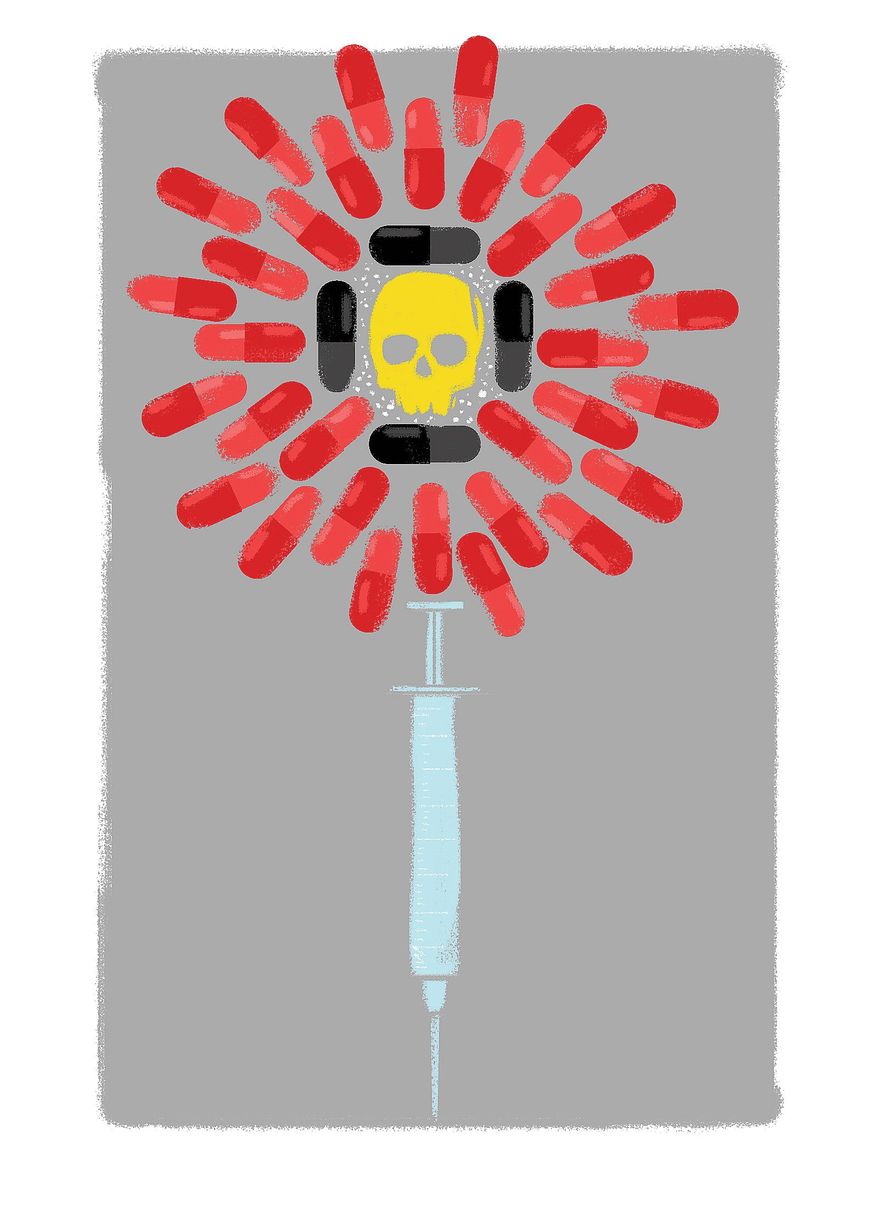 Illustration on opioid addiction by

Linas Garsys
Alfred S. Regnery
ANALYSIS/OPINION:
Over 64,000 Americans died from drug overdoses in 2016 — 21 percent more than 2015. The toll in 2017 is unknown, but is estimated to be higher still. The 2016 figure is over twice the number of all gun-related homicides and suicides, and more than American combat losses during the entire nine-year war in Vietnam. Opioids, the latest deadly trend in the drug world, made up well over half of those deaths, and more than 15,000 fatalities resulted from overdoses of prescribed drugs.
The Trump administration recently declared the opioid crisis a public health emergency, the first time since 2010 that such a designation has been made for any cause, and the first time ever for a drug epidemic, giving victims of opioids more treatment options, among other benefits, and unleashing the vast federal public health and social services apparatus on the problem.
Drug overdose deaths during the cocaine and crack crisis of the 1980s, and the more recent meth epidemic, paled in comparison to death rates today. Crack was largely an inner city-minority phenomenon and the violence that accompanied the crisis reflected, well, the inner city. Today's crisis draws fewer socio-economic, racial, age or population density lines.
West Virginia, one of the most rural states, has the highest opioid per capita death rate in the nation. Opioid victims range in age from young teens to octogenarians, and are more often white than minority.
While the government's solution to the crack cocaine crisis included the enactment of strict mandatory minimum sentences and "three strikes and you're out" laws and to imprison pushers and dealers to long prison terms, the reaction to the opioid crisis is considerably more benign, and some would say more humane.
Opioids include heroin, which is largely imported from Mexico or manufactured domestically in illegal labs, prescription drugs such as OxyContin and others using fentanyl as their base, and a combination of the two — dealers often lace heroin with fentanyl, which can increase its strength by as much as 50 times, making it more lethal than and the cause of tens of thousands of overdose deaths.
Drug dealing is, by definition, a violent crime, and the violence that accompanies illegal drug dealing is huge. Because of the nature of drug trafficking enterprises and their attendant violent enforcement, there are plenty of criminals who need to feel the sting of prosecution and incarceration.
Earlier this year, Attorney General Jeff Sessions, vacating soft on crime policies of the Obama/Holder era, instructed his federal prosecutors to charge drug distributors and other violent criminals appropriately — meaning they could again charge the most serious readily provable offense.
Those charges can, and should, include those involving mandatory minimum sentences of 20 years to life for manufacturing, distributing, or possessing narcotics with intent to distribute and where the result is death or serious bodily injury. Those laws were enacted by Congress, often at the urging of inner-city leaders who saw their neighborhoods devastated by the scourge of the drug trade.
The laws were nothing if not effective — tens of thousands of violent organizers, distributors, enforcers and accomplices received decades-long mandatory minimum sentences, and more than a few remain in prison to this day.
The Justice Department has awarded over $70 million during 2017 to help fight the opioid crisis nationwide and set up drug courts. It has directed U.S. Attorneys to aggressively prosecute drug dealers, and just last week established a new office to help oversee the implementation of Justice Department initiatives and coordinate with state and local law enforcement.
Violent drug dealers are not the only ones being prosecuted. As the number of drug-related deaths escalates, law enforcement officials are under growing pressure to prosecute and lock up not only criminal drug dealers, but also doctors, pharmaceutical company officials, and even friends and family of the victims if they've aided in an overdose death.
The Wall Street Journal recently reported that in addition to drug dealers, "prosecutors are also sweeping up low-level dealers who are trying to support their habit, as well as friends, and family members of overdose victims who bought or shared drugs with the deceased."
Civil lawsuits may be on the agenda as well. In his announcement making the crisis a national health emergency, President Trump declared that the federal government would be "bringing some very major lawsuits against people and companies that have been hurting our communities."
Ironically, as the criminal justice reform movement advocates repeal of the tough-on-crime mandatory-minimum laws passed during the 1980s crack-cocaine crisis, prosecutors are using the same statutes to lock up those responsible for today's drug deaths. The Wall Street Journal recently reported that some 1200 drug-death prosecutions were initiated in 2016, often resulting in sentences stretching to 20 years or more.
It is unlikely that the opioid crisis will be brought under control in the near future. Prevention and compassionate treatment are important, but even more crucial is for law enforcement to use the proven tools it has at its disposal to prosecute those responsible for the deaths of thousands of Americans.
•
Alfred S. Regnery is chairman of the Law Enforcement Legal Defense Fund. He served in the Reagan/Meese Justice Department.
Source>https://www.washingtontimes.com/news/2018/jan/4/opioid-crisis-is-public-health-emergency-but-its-a/