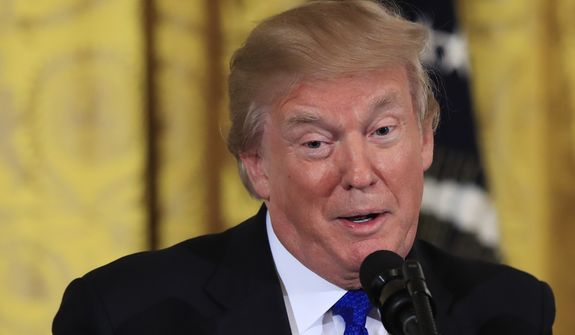 Stephen Dinan
President Trump said Wednesday he does support a pathway to citizenship for illegal immigrant "Dreamers," taking a firm stand on one of the thorniest issues in the looming debate.
The declaration, which the president made to reporters at the White House, goes further than the White House had been willing to go. Until now, officials had said the president supported some form of legal status but had stopped short of saying that should end in citizenship.
Mr. Trump, though, said he envisions a 10-12 year path — similar to what a bipartisan deal in Congress had called for.
"We're going to morph into it. It's going to happen at some point in the future over a period of 10 to 12 years," he said, according to news reports — though he cast it not as a guarantee, but an "incentive" that would go to Dreamers to become productive members of society.
Mr. Trump also said he would consider extending the March 5 phaseout date for the Obama-era DACA program.
That contradicts his Justice Department and Homeland Security secretary, who have told Congress and the federal courts that the DACA program is illegal and cannot be maintained or extended.
Mr. Trump's argument could undercut the Justice Department just as it prepares to argue the illegality of DACA to the Supreme Court.
Source>https://www.washingtontimes.com/news/2018/jan/24/trump-backs-full-citizenship-dreamers/