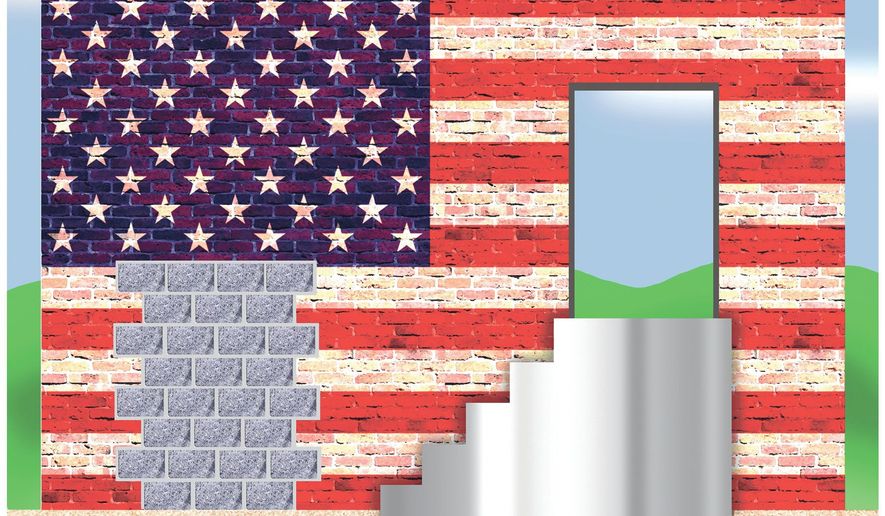 Illustration on merit-based immigration policy by Alexander Hunter
Jeff Sessions
ANALYSIS/OPINION:
For decades, the American people have been begging and pleading with our elected officials for an immigration system that is lawful and that serves our national interest.
That's not just because immigration is an economic issue. It's also because it's a matter of public safety and national security. If we can't control — or even know — who enters this country, it's much harder to keep people safe.
This is not a hypothetical matter. A new report from the Department of Justice and the Department of Homeland Security reveals that nearly three out of every four people convicted of international terrorism-related offenses in federal courts since 9/11 were born outside of this country. Terrorists and their sympathizers shouldn't be allowed in this country, and yet this report shows that hundreds of them have endangered the lives of the citizens we work for.
The report goes on to state that over the same time, U.S. Immigration and Customs Enforcement has removed more than 1,700 aliens with national security concerns, and that the vast majority of the FBI's open counterterrorism investigations in the United States arise from threats by international terrorists.
But the threats we face extend far outside the realm of terrorism and into the criminal world. Any crime committed by an alien — and especially an illegal alien — is, by definition, preventable. Even one victim of a crime committed by an illegal alien is too many. And yet thousands of Americans across our country have suffered terribly because of decades of lax immigration policies and enforcement.
In August, the federal Bureau of Prisons reported that more than 42,000 federal prisoners — or more than one in five federal prisoners — are foreign-born. Out of those in custody of the U.S. Marshals Service, which is responsible for housing pretrial detainees, more than 12,000 were foreign-born. That's nearly one quarter.
That means that tens of thousands of crimes have been committed in this country that would never have happened if our immigration laws were enforced and respected like they ought to be.
And this doesn't just affect the victims of these crimes. It affects all of us. Federal investigations require a lot of work. They are time-consuming and they're not cheap. Our law enforcement professionals do amazing work, but it is simply not reasonable to keep asking them to do more and more so that we can keep admitting thousands of people every year whom we just don't know much about. Each one of the cases covered by the report is a case that should never have happened in the first place and placed an unnecessary and unfair burden on our federal agents.
In other words, the report confirms what the American people have known for more than 30 years: our immigration system is broken and has not been serving the common good of this nation.
In fact, our current immigration system is designed to be blind to merit. It favors not education or skills but anybody who has a relative in America — and not necessarily a close relative.
President Trump ran for office arguing for a merit-based system that lets in the best and the brightest but turns away criminals — even if they do have a relative here.
It's a commonsense idea. After all, employers don't roll dice when deciding who they want to hire. Our incredible military doesn't draw straws when deciding whom to accept. But for some reason, when we're picking new Americans — the future of this country — our government uses a randomized lottery system and chain migration.
Mr. Trump's proposal is not unheard of. A merit-based system is the law in places like Canada and Australia, allowing those countries to choose future Canadians and future Australians based on their likelihood of assimilating, thriving, and contributing to society as a whole.
That kind of system would be great for our economy, of course. Much more importantly, it would be the best way to ensure that our immigration system does not continue to harm our national security.
Mr. Trump is right. It is time to put in place smarter immigration laws — and start enforcing them. The American people have waited long enough.
Mr. Trump's proposed merit-based system would restore fairness and respect for the law to our immigration system. As our new report shows, it would also help keep us a lot safer.
Source>https://www.washingtontimes.com/news/2018/jan/21/donald-trumps-immigration-principles-will-make-ame/