Judge uses Trump's Twitter post to undercut DHS phaseout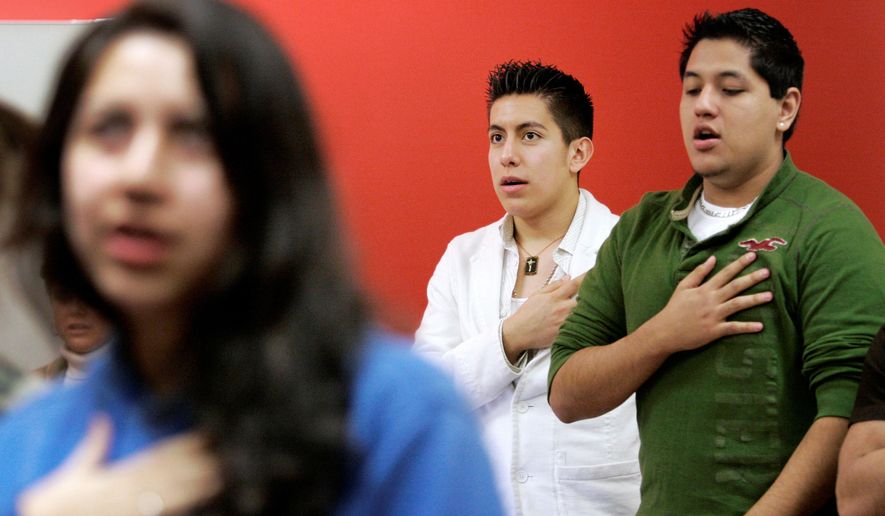 A federal judge in New York ruled Tuesday that the government must fully restart the Obama-era DACA deportation amnesty and accept brand new applicants as well as renewals, throwing a potential wrench in the ongoing debate over the fate of "Dreamers" on Capitol Hill.
Judge Nicholas G. Garaufis said the administration does have the power to revoke DACA, but it must give a sound reason for doing so — and the Homeland Security Department's September 2017 rationale fell far short of what is required in that regard.
He even used Mr. Trump's own tweets as evidence that the DACA program was ended precipitously, pointing to President Trumps's claims that he could "revisit this issue" as proof the program could have been continued.
"The question before the court is thus not whether defendants could end the DACA program, but whether they offered legally adequate reasons for doing so," wrote Judge Garaufis, a Clinton appointee to the court. "Based on its review of the record before it, the court concludes that defendants have not done so."
The judge said the Trump administration can still rescind the program in the future if it does it the right way.
And he said the administration doesn't have to approve any specific DACA applications. But it must begin to process applications again.
Mr. Trump had set a March 5 phaseout data for the DACA program, whose full name is Deferred Action for Childhood Arrivals. Created by the Obama administration through executive action in 2012, it is currently protecting nearly 700,000 Dreamers from deportation.
Mr. Trump had said the program was illegal and announced the phaseout, saying it was up to Congress to come up with a more firm legal status for Dreamers.
But in the months following, Mr. Trump had also said he would consider extending the March 5 deadline. In one September tweet he said that if Congress didn't act, "I will revisit this issue."
Judge Garaufis said that undercut the president's own legal team, saying it's "not clear that the attorney general's views are those of the administration he serves."
U.S. Citizenship and Immigration Services, the agency that handles DACA, did not have an immediate reaction.
The agency had already begun to accept renewal applications under the first court order.
But it has not released any details of how that process is going.
Source>https://www.washingtontimes.com/news/2018/feb/13/court-orders-full-restoration-daca-program/