One-third acknowledge their schools are 'intolerant' of conservative views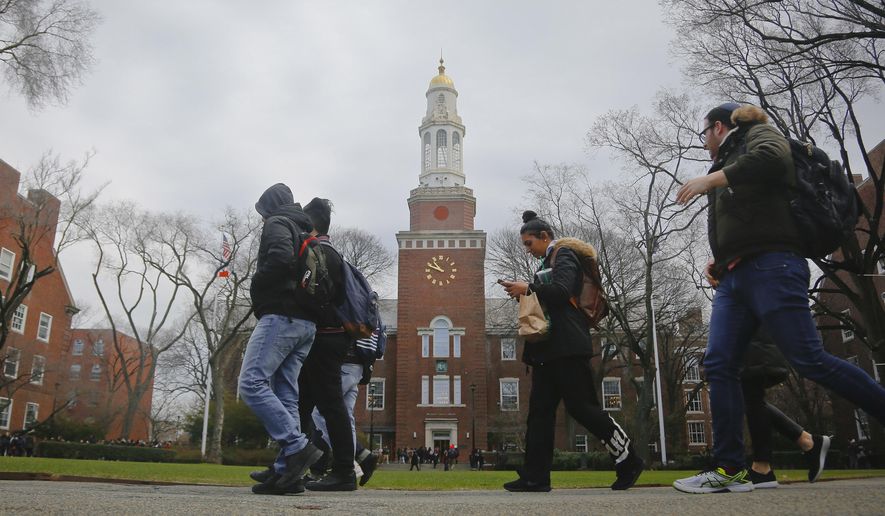 Jennifer Harper
Public confidence in American universities has eroded in recent years, and campus administrators have taken notice, blaming not only the high cost of a 4-year degree but the impact of liberal bias in the academy, a new survey of college presidents finds.
"Asked to assess which of several factors were most responsible for declining public support, 98 percent of college and university presidents cited 'concerns about college affordability and student debt', 95 percent said 'concerns over whether higher education prepares students for careers,' and 86 percent cited the perception of liberal political bias," reports an extensive new poll from Inside Higher Ed, an independent media company and industry source which tracks higher education.
"About a third of campus leaders agree with the statement that 'the perception of colleges as places that are intolerant of conservative views is accurate.' And 51 percent agree the 2016 election 'exposed that academe is disconnected from much of American society'," the poll analysis said.
"Perception" is an important term here, the presidents also fretted that the public does not have an realistic impression of the nation's schools.
"Only 13 percent of college and university presidents agree that 'most Americans have an accurate view of the purpose of higher education,' and just 16 percent say the public has an accurate view of the purpose of their sector of higher education. The leaders of research institutions feel especially misunderstood: just 5 percent of presidents of public doctoral universities and 11 percent at private doctoral and master's-level institutions say the public understands their sector, compared to 22 percent of community college leaders, for example," the poll said.
It also revealed that a majority of the presidents say they are more politically active; 55 percent say they spoke out more on political issues in 2017.
"To the extent that concerns about liberal bias are harming the public's view of colleges, the damage is likely greatest among Republican voters, as recent polls have shown that group is most likely to have lost more faith in higher education. That divide clearly troubles presidents. More than three-quarters say they worry about Republicans' increasing skepticism, even as 71 percent disagreed that 'Republican doubts about higher education are justified'," the analysis said.
The findings are complex. The poll also found that 77 percent of the presidents say "anti-intellectual sentiment" is growing in the U.S. while another 69 percent say President Trump's "rhetoric" has made it more difficult for them to recruit international students.
Six-out-of-10 also say "the push to diversify American higher education" is likely to recede in public attention and public policy.
The survey of 618 U.S. college and university presidents was conducted by Inside Higher Ed and Gallup from Jan. 3-Feb. 1 and released on March 9.
Source>https://www.washingtontimes.com/news/2018/mar/14/86-of-university-presidents-cite-negative-effects-/