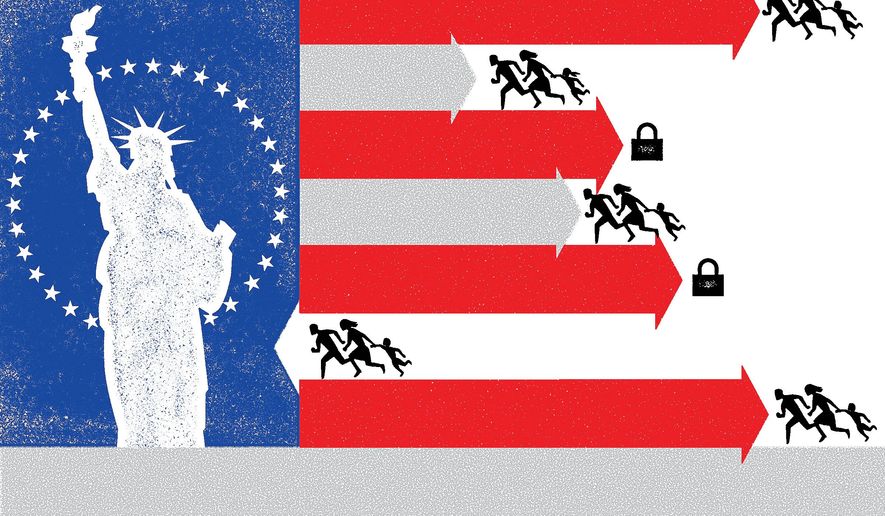 Illustration on the factors involved in immigration reform by Linas Garsys
Maria Espinoza
Most Americans have probably heard the line that immigrants are less likely than native-born Americans to commit crimes. That claim, perpetrated so persistently by the media and open borders advocates, is often accepted as truth, but it's belied by some stubborn facts.
In December 2017, the Department of Justice released a report with the Department of Homeland Security that revealed there were nearly 40,000 known or suspected aliens incarcerated in federal prison. That's roughly one in five federal prisoners. But foreign-born individuals make up only about 13 percent of the general population, which means the immigrant share of the federal prison population is nearly two-thirds greater than its share of the general population. But the story does not end there.
Of individuals in custody of the U.S. Marshals Service, which is responsible for housing those awaiting trial, nearly 20,000 were foreign-born. That is more than one-third of the Marshals Service's detainees — nearly 300 percent more than its share of the general population.
In other words, the lies of the media and pro-amnesty special interest groups have been exposed. The inconvenient truth is that foreign nationals residing illegally within the U.S. are significantly more likely to commit crimes that land them in federal prisons and three times more likely to be awaiting trial in federal court than are native-born Americans. At state and local levels, the illegal alien trends of high crime rates continues, placing Americans in unprecedented danger.
To mislead the public, the left perverts the results of studies that suggest that "immigrants" commit less crime, and deliberately and intentionally lumps in legal aliens with illegal aliens, who are the criminals.
A recent study looked at decades of data on the prison population in Arizona and found that illegal aliens are more than twice as likely to be convicted of crimes as other Arizonans. They're more likely to be convicted of sexual assault, robbery and driving under the influence. They're more than twice as likely to be convicted of murder.
Lost in all of this is the simple truth that every crime by illegal aliens is an outrage and, by definition, preventable. Illegal aliens simply should not be here, and their crimes simply should not have happened here. Just ask Texas Attorney General Ken Paxton. Mr. Paxton revealed that, between 2012 and 2017, more than 600,000 crimes were committed by those very persons who should not have been here, costing more than 1,200 Texas their lives in the process.
We shouldn't be surprised when those who disrespect our immigration laws don't respect our other laws, either. Those who want the benefits of joining our community without any of the responsibilities, in effect, treat our laws and our way of life with contempt.
Carefully controlled legal immigration, on the other hand, can continue to be a blessing upon America. Unfortunately, this has not been the case for more than 50 years, due to reckless immigration laws passed by Congress and signed by a Democratic president.
While entry into America should be based upon merit and how it will strengthen our country, our current immigration system is designed to be blind to merit. It doesn't favor education, skills or character. It doesn't favor a desire to assimilate and become part of our culture. It just favors anyone with a relative in America — and not necessarily a close relative. It's called "chain migration" and has led to a very significant increase in crime in America.
As a result of illegal aliens and our broken immigration system, our law enforcement officers have had more work to do. They have had to go into more dangerous situations and confront criminals who often shouldn't have been allowed in this country in the first place. That's not fair — and it uses up too much of their time and taxpayer-paid police resources.
Immigration to this country is not a right; it's a privilege. We have no duty to allow anyone into this country — let alone a terrorist, a violent extremist or any other criminal. Our immigration system, like our other laws, exists to serve the interests of the people of this nation above all else.
President Trump ran for office and won by offering a fix to this broken system.
He is determined to finally build a wall at our Southern border. This will make it harder and more expensive for illegal aliens to break our laws and smuggle drugs, weapons or even human beings into this country. More importantly, the wall will send a message to the world that in the United States of America, we enforce our laws.
The central idea of the president's immigration reform proposal is upgrading to a merit-based immigration system. This would replace the randomness of a lottery with rational selection criteria, like welcoming the best and the brightest but banning gang members, identifying fraudsters, drunk drivers, and child abusers.
A merit-based system is already the law in places like Canada and Australia. These are tolerant, compassionate countries, and they choose their future citizens based not on luck, but on the immigrant's likelihood of contributing to the common good.
Commonsense reforms like these would stop our immigration system from undermining our national security, improve our economy and ease the burden on our law enforcement officers. Congress should heed the president's call and give us a system that doesn't roll dice but actually takes steps to keep us safe and puts the interests of Americans first.
•
Maria Espinoza is the national director of The Remembrance Project.
Source>https://www.washingtontimes.com/news/2018/mar/22/toward-carefully-controlled-legal-immigration/