White House cites Fix NICS passage, bump stock ban as measures taken to address problem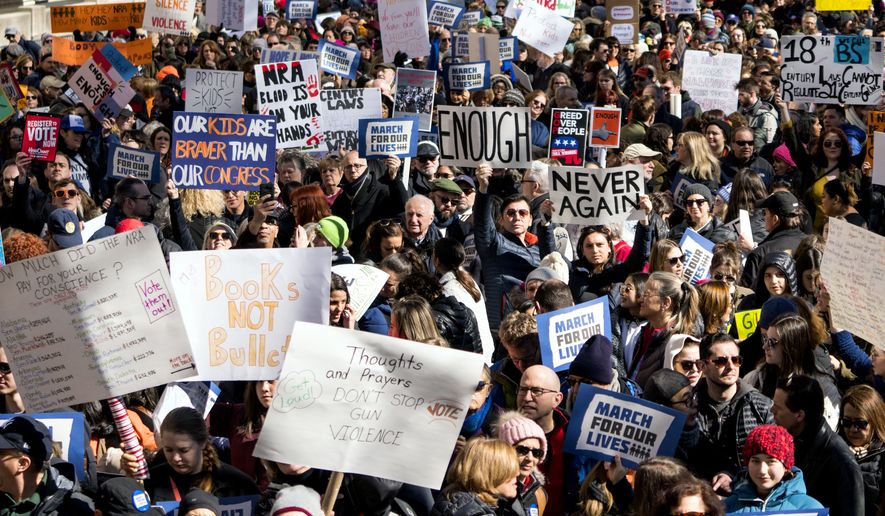 Hope the KIDS aren't Hijacked by the same Useful Idiots that march for DACA, Abortion and Gender Identification. If so, this will have a negative impact and be looked upon as more Propaganda from the LEFT
...tmiraldi
Dave Boyer
As hundreds of thousands of students, parents and teachers marched on Washington and other cities Saturday against gun violence, the White House said President Trump praised their activism.
"We applaud the many courageous young Americans exercising their First Amendment rights today," said White House deputy press secretary Lindsay Walters. "Keeping our children safe is a top priority of the president's, which is why he urged Congress to pass the Fix NICS and STOP School Violence Acts, and signed them into law."
Mr. Trump signed a wide-ranging spending bill Friday that includes the Fix NICS measure, which encourages more thorough reporting of criminal convictions to an FBI database to prevent felons from purchasing firearms.
Ms. Walters noted that the Department of Justice on Friday also issued a rule to ban bump stocks, "following through on the president's commitment to ban devices that turn legal weapons into illegal machine guns."
Summoned by student survivors of the Florida school massacre in February, marchers poured into the nation's capital and cities across America on Saturday to march for gun control and ignite political activism among the young.
Organizers of the "March for Our Lives" rally in Washington hoped their protest would match in numbers and spirit last year's women's march, one of the biggest Washington protests since the Vietnam era and one that far exceeded predictions of 300,000 demonstrators.
Bearing signs reading "We Are the Change," ″No More Silence" and "Keep NRA Money Out of Politics," protesters lined Pennsylvania Avenue from the stage near the Capitol, stretching back toward the White House. The route also takes marches by the Trump International Hotel.
Mr. Trump is in Florida for the weekend. A motorcade took him to his West Palm Beach golf club in the morning.
Large rallies also took shape in such cities as Boston, Houston and Parkland, Florida, the site of the Feb. 14 shooting at Marjory Stoneman Douglas High School that left 17 people dead.
The police presence was heavy as more than 20,000 people filled a park near the school, chanting slogans such as "Enough is enough" and carrying signs that read "Why do your guns matter more than our lives?" and "Our ballots will stop bullets."
Gun violence was fresh for some in the Washington crowd: Ayanne Johnson of Great Mills High School in Maryland held a sign declaring, "I March for Jaelynn," honoring Jaelynn Willey, who died Thursday two days after being shot by a classmate at the school. A boy was injured in the attack, and the shooter died.
— This article is based in part on wire-service reports.
Source>https://www.washingtontimes.com/news/2018/mar/24/white-house-praises-marchers-protesting-school-gun/