Manifesto citing Islamist radicalism as driving violence against France's Jews, including killing of elderly woman, attracts more than 300 signatures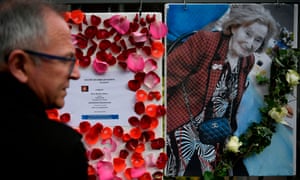 A memorial to Mireille Knoll, an 85-year-old Jewish woman stabbed to death in Paris last month. Photograph: Lionel Bonaventure/AFP/Getty Images
Agence France-Presse
Manifesto citing Islamist radicalism as driving violence against France's Jews, including killing of elderly woman, attracts more than 300 signatures
More than 300 French dignitaries and stars, including ex-president Nicolas Sarkozy and actor Gérard Depardieu, have signed a manifesto denouncing a "new antisemitism" marked by "Islamist radicalisation", following a string of killings of Jews.
France's Jewish community of more than half a million is the largest in Europe but has been hit by a wave of emigration to Israel in the past two decades, partly due to the emergence of virulent antisemitism in predominantly immigrant neighbourhoods.
"We demand that the fight against this democratic failure that is antisemitism becomes a national cause before it's too late. Before France is no longer France," reads the manifesto, to be published in the county's Le Figaro newspaper on Sunday.
The signatories condemn what they called a "quiet ethnic purging" driven by rising Islamist radicalism, particularly in working-class neighbourhoods. They also accuse the media of remaining silent on the matter.
"In our recent history, 11 Jews have been assassinated – and some tortured – by radical Islamists because they were Jewish," the declaration reads.
Condemning the "dreadful" killing, the president, Emmanuel Macron, reiterated his determination to fight antisemitism.
In April 2017 an Orthodox Jewish woman in her sixties was thrown out of the window of her Paris flat by a neighbour shouting, "Allahu Akbar" (God is greatest).
"French Jews are 25 times more at risk of being attacked than their fellow Muslim citizens," the manifesto in Le Figaro reads.
It adds that some 50,000 Jews had been "forced to move because they were no longer in safety in certain cities and because their children could no longer go to school".
Source>https://www.theguardian.com/world/2018/apr/22/ethnic-purging-french-stars-and-dignitaries-condemn-antisemitism