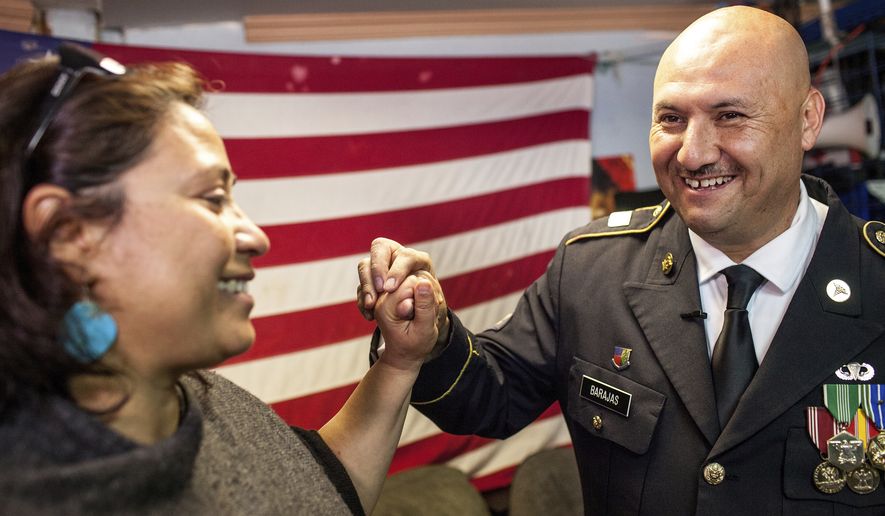 Photo by: Joel Angel Juarez
Hector Barajas, a U.S. Army veteran deported twice to Mexico, celebrated last month with Norma Chavez-Peterson, executive director of the American Civil Liberties Union of San Diego and Imperial counties, after learning that he would be granted American citizenship. (Associated Press)
Stephen Dinan
Hector Barajas was convicted of shooting at a vehicle in 2002 and was deported back to Mexico. He quickly sneaked back into the U.S. and was caught and deported again. He then started a support group for fellow veterans deported to Mexico, worked to get them health care — and, last year, earned a pardon from California Gov. Jerry Brown for his crime.
On Friday, he will cross the border once again and arrive in San Diego, where he will be sworn in as a U.S. citizen.
To his backers, it's a long-overdue recognition for a man who has devoted years of his life to his adopted country, has made bad decisions but redeemed himself and now deserves the right to join American society.
They hope he has blazed a path other people — and particularly veterans — might be able to follow, winning pardons to halt their deportations or even earn the right to come back.
"Hector's case is in many ways a classic example how draconian our immigration laws have become," said Bardis Vakili, an attorney for the American Civil Liberties Union in San Diego, which went to court to force the citizenship issue earlier this year.
"The same unforgiving deportation machine that routinely sweeps up hardworking immigrants simply seeking a better life has also forced countless veterans like Hector, who served this country honorably and risked their lives on its behalf, from their homeland," Mr. Vakili said.
"It's an opportunity to get back with my family and start my life over again," he told The Washington Times by telephone from Mexico.
To critics, though, he is the latest person to find a loophole in the immigration system, claiming a questionable pardon in order to circumvent the usual penalties.
"It seems a travesty to be granting pardons to violent foreign criminals, merely because they spent time in our armed forces. Especially in light of the fact that most of them remain subject to deportation specifically because they failed to seek U.S. citizenship," said Matthew J. O'Brien, a former immigration official who is now director of research at the Federation for American Immigration Reform.
The power of a pardon is quickly becoming a tool for anti-Trump governors.
New York Gov. Andrew Cuomo issued pardons to 18 immigrants last year in a bid to expunge crimes that left them vulnerable to deportation. Mr. Brown issued five pardons last month to immigrants in similar circumstances.
Both men said they made sure those receiving the pardons had a number of years of good behavior under their belts since their crimes.
President Trump, who apparently saw reports of Mr. Brown's pardons this year on Fox News, seized on the situation. He pointed out that their crimes included kidnapping, robbery, drug trafficking and spousal abuse.
"Is this really what the great people of California want?" he said on Twitter.
Activists, though, say once legal immigrants have served the time for their crimes, they should not be punished further. Deportation means they are being punished beyond what others would face.
That is the case for Mr. Barajas, who came to the U.S. as a boy. He joined the Army as a legal permanent resident.
He could have applied for citizenship, but he said it just wasn't a high priority at the time. In court papers, he claims he had been led to believe he was automatically a citizen by dint of his service — a common belief among green-card holders in uniform.
He received an honorable discharge from the military in 2001, but his problems soon began.
He notched a DUI conviction in 2001, then in 2002 was driving with friends while high on crack when one of them shot at another car.
"It wasn't me," he said while facing charges of attempted murder, but he pleaded no contest to shooting at an occupied vehicle. He served more than a year in prison.
Mr. Barajas was deported in 2004 but sneaked back months later. He was nabbed and deported again in 2010, after he got into a fender-bender and was caught driving without a license.
He brushes aside questions about the shooting.
"That was 15 years ago, the incident. I'm more mature now, older. We all make mistakes," he said. "I'm almost 100 percent sure I'm not going to make a mistake as stupid as that was, putting myself in a situation."
He defended his decision to sneak back into the U.S. after his first deportation. He said it was about returning to his life in California.
"I didn't want to stay in Mexico. Back then, I was like, 'This is not my country.' I didn't want to be here," he said.
He said that during his time between deportations he was "not committing crimes and not doing anything illegal."
In his pardon, he didn't mention driving without a license or sneaking back in: "Since his release from custody, he has lived an honest and upright life, exhibited good moral character, and conducted himself as a law abiding citizen."
The governor cited Mr. Barajas' service record, which included a Humanitarian Service Medal and a Good Conduct Medal. In Mexico, Mr. Barajas founded the Deported Veterans Support House in Tijuana and runs the Banished Veterans page on Facebook, both aimed at helping those like him.
Under the law, because he now has a record cleansed of serious felonies, and because he served honorably during a period of declared hostilities — even though his service wasn't in the war zone — he is eligible for citizenship.
Dan Cadman, a fellow at the Center for Immigration Studies, said veteran cases are tricky, and leniency might be appropriate in some instances, but an honorable discharge shouldn't be the only bar to clear.
"I have a lot of unanswered questions in this particular case," he said.
In general, he said, granting pardons to help people escape immigration consequences "seems to me an egregious misuse of the pardon authority."
Mr. Barajas says there are hundreds of veterans in his same situation, though he is the first whom he knows of to get citizenship after a pardon.
He was one of five veterans who applied for pardons at the time, and three of them were approved in that first batch last year — evidence, he said, that governors aren't rubber-stamping the requests.
"If we're deporting American veterans, then to me that's how broken our immigration system is. Just because it's the law, that doesn't make it morally right," he said.
He said the military should be more cognizant of these situations and should push people in uniform with green cards to apply for citizenship. Troops who have served honorably are able to short-circuit the usual five-year wait, he said.
"This whole experience made me a better person. I'm not bitter today, I take responsibility for it," he said.
The Times asked whether Friday would mark the first time he has been able to reach U.S. soil since 2010. He said yes, then paused. "Well, legally."
Source>https://www.washingtontimes.com/news/2018/apr/12/jerry-brown-andrew-cuomo-use-pardons-circumvent-im/