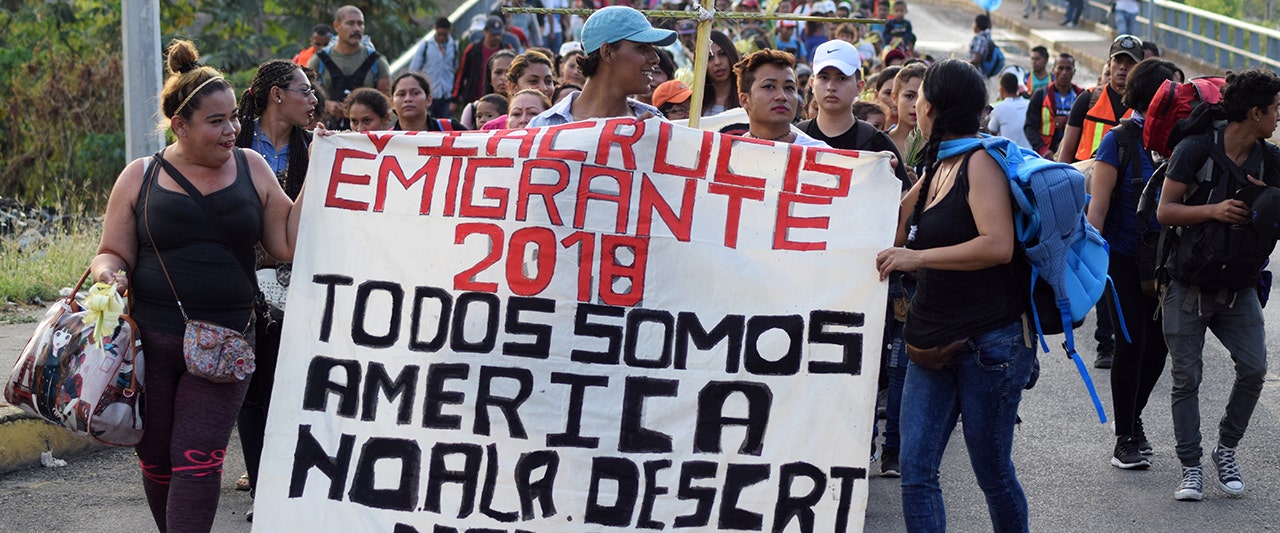 Katherine Lam
President Trump called on Sunday for "tough" immigration reform after a report stated a caravan carrying more than 1,000 people from Central America is traveling through Mexico, with their last stop intended for the United States in hopes of entering the states illegally or by asking for asylum.
The caravan — organized by Pueblos Sin Fronteras, or People Without Borders — traveled through Mexico without authorization last week, BuzzFeed News reported on Friday. Officials in Mexico have not attempted to stop the migrants, about 80 percent of them from Honduras, according to the report. The group's intent is to provide those people a safe way to travel to the U.S.
National Border Patrol Council (NBPC) union chief Brandon Judd told "Fox & Friends" on Sunday that the migrants are riding on the benefit of catch and release, when illegal immigrants are detained in the U.S. and released while they await for their court hearings.
President Trump, who has vowed to end catch and release, tweeted Sunday morning that Republicans need to take the "nuclear option" when passing tougher immigration laws.
"Border Patrol Agents are not allowed to properly do their job at the Border because of ridiculous liberal (Democrat) laws like Catch & Release. Getting more dangerous. 'Caravans' coming. Republicans must go to Nuclear Option to pass tough laws NOW. NO MORE DACA DEAL!" the president tweeted.
He added, "Mexico is doing very little, if not NOTHING, at stopping people from flowing into Mexico through their Southern Border, and then into the U.S. They laugh at our dumb immigration laws. They must stop the big drug and people flows, or I will stop their cash cow, NAFTA. NEED WALL!"
"These big flows of people are all trying to take advantage of DACA. They want in on the act!" he said.
Organizers believe about two-thirds of the people in the caravan are planning to enter the U.S. illegally or by asking for protection, according to BuzzFeed. The caravan does not give the migrants the guarantee they will enter the U.S. and uses any form of transportation necessary to make it to the border. Most of the people are reportedly fleeing poverty and political unrest from their home country.
"First off, you have got a Mexican government entity that is assisting these individuals that are coming up to the United States," Judd told "Fox & Friends." "These individuals do not have passports or legal documents to be in Mexico, yet you got an agency that's helping them get to our [U.S.] border."
Judd said border patrol agents do not have the ability to stop the migrants at the border even if they only step one foot on U.S. soil.
"Once they [the migrants] enter the country, even if we [border patrol agents] are standing at the border with our hands out saying, 'Don't enter, don't enter,' all they have to do is cross one foot into the border and we have to take them into custody," Judd said. "If they ask for asylum or say I fear to go back to my country, then we have to process them under 'credible fear' which allows them to be released into our country."
It's unclear when the hundreds of migrants will be arriving at the U.S. border. Some of those who are traveling with the caravan are planning to stay in Mexico.
Source>http://www.foxnews.com/politics/2018/04/01/trump-calls-for-tough-immigration-reform-after-report-caravan-with-central-americans-heading-to-us.html