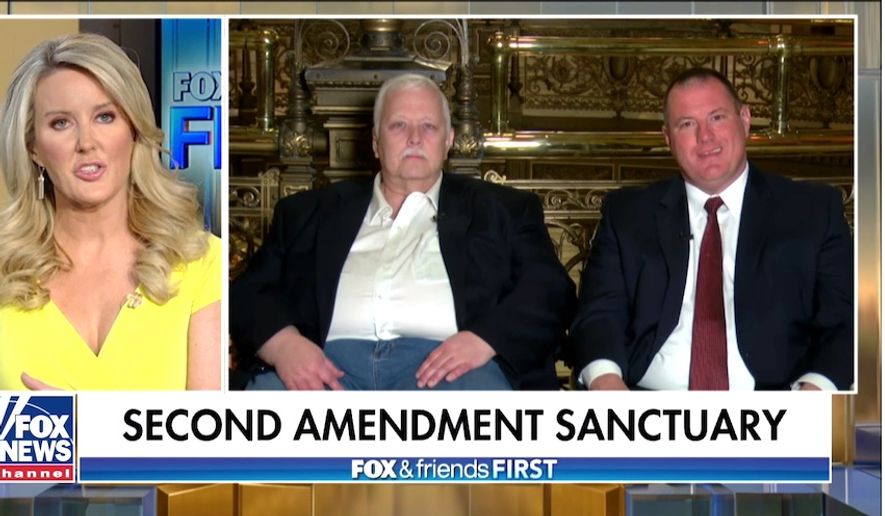 Effingham County State's Attorney Bryan Kibler (right) and board member David Campbell discuss their stand against Illinois gun control laws during a Fox News interview held April 19,2018. (Image: Fox News screenshot)
Douglas Ernst
An overwhelming majority of board members in Effingham County, Illinois, decided to "flip the script" this week and declare itself a "sanctuary" for gun owners.
Effingham County State's Attorney Bryan Kibler and board member David Campbell called a barrage of gun-control bills working their way through the Illinois House and Senate a clear signal that it's time to "take a stand."
The men joined "Fox & Friends First" on Thursday to discuss a new Second Amendment resolution that passed along an 8-1 vote.
We "decided it's time for someone to take a hard stand," Mr. Campbell told the network.
The resolution reads: "If the Government of the State of Illinois shall infringe upon the inalienable rights granted by the Second Amendment, Effingham County shall become a 'sanctuary county' for all firearms."
Mr. Kibler said that Effingham's move, while "mostly symbolic," was drafted to articulate the high level of discontent among its population.
"We thought, 'How can we really get the point across that this is becoming a major concern to our constituents that our Second Amendment rights and liberties are being slowly stripped away through numerous bill coming through the Illinois General Assembly?' … Why don't we just make this a sanctuary county like they would for undocumented immigrants," Mr. Campbell said. "So we did flip the script on it."
Mr. Kibler said that an "outpouring of support" has flowed into his office from neighboring counties.
"It's symbolic … but it really proves that people in southern Illinois are tired of being pushed around" by Chicago legislators, he said.
The rural county of 34,000 residents is home to world's second largest cross, a 200-foot steel memorial. It last backed a Democrat for president in 1964.
Source>https://www.washingtontimes.com/news/2018/apr/19/sanctuary-county-declared-for-illinois-gun-owners-/