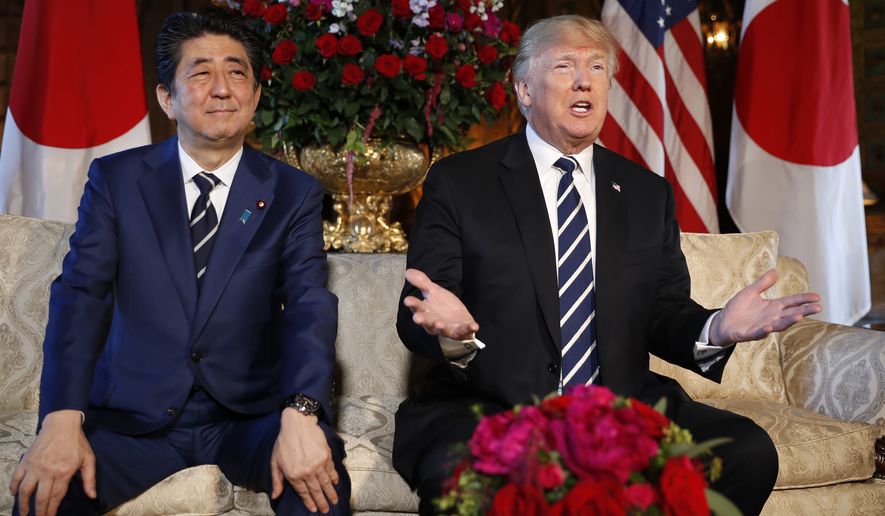 Dave Boyer
President Trump said Tuesday that North Korea and South Korea have his "blessing" to negotiate an end to their war, which dates to 1950.
"South Korea is meeting and has plans to meet with North Korea to see if they can end the war and they have my blessing on that," Mr. Trump told reporters as he met with Japanese Prime Minister Shinzo Abe in Florida. "They do have my blessing to discuss the end of the war. Subject to a deal, they would certainly have my blessing."
North and South Korean officials are discussing an end to the military conflict that has existed for 68 years. South Korean President Moon Jae-in and North Korean leader Kim Jong-un could release a joint statement officially ending the conflict at a summit next week.
North Korea and South Korea have technically been at war since June 1950, when North Korean troops invaded the South. An armistice was signed in July 1953, but the two countries have been in a standoff ever since, with a buffer demilitarized zone separating them.
Mr. Trump has agreed to meet with Mr. Kim, probably in early June, to discuss denuclearization.
Mr. Trump said his summit with Mr. Kim will take place "assuming things go well" in ongoing negotiations between Washington and Pyongyang to lay the groundwork for the meeting of the two leaders.
"It's possible things won't go well and we won't have the meetings, and we'll just continue to go along this very strong path that we've taken," the president said, referring to sanctions on North Korea.
Mr. Abe, who is holding two days of talks with Mr. Trump on trade and North Korea, said the "pressure campaign" against Pyongyang succeed in compelling Mr. Kim to seek a dialogue with the U.S. and its allies.
The prime minister emphasized "the importance of achieving the complete, verifiable and irreversible denuclearization as well as the abandonment of missile programs of North Korea" through the talks.
"Our approach has been proved to be successful and the right one," Mr. Abe said. "I would like to commend Donald's courage in his decision to have the upcoming summit meeting with the North Korean leader."
Mr. Abe also said he wants negotiators to raise with North Korea the abduction of Japanese citizens, calling it a "priority" issue for Japan.
Source>https://www.washingtontimes.com/news/2018/apr/17/trump-north-south-korea-have-my-blessing-end-war/