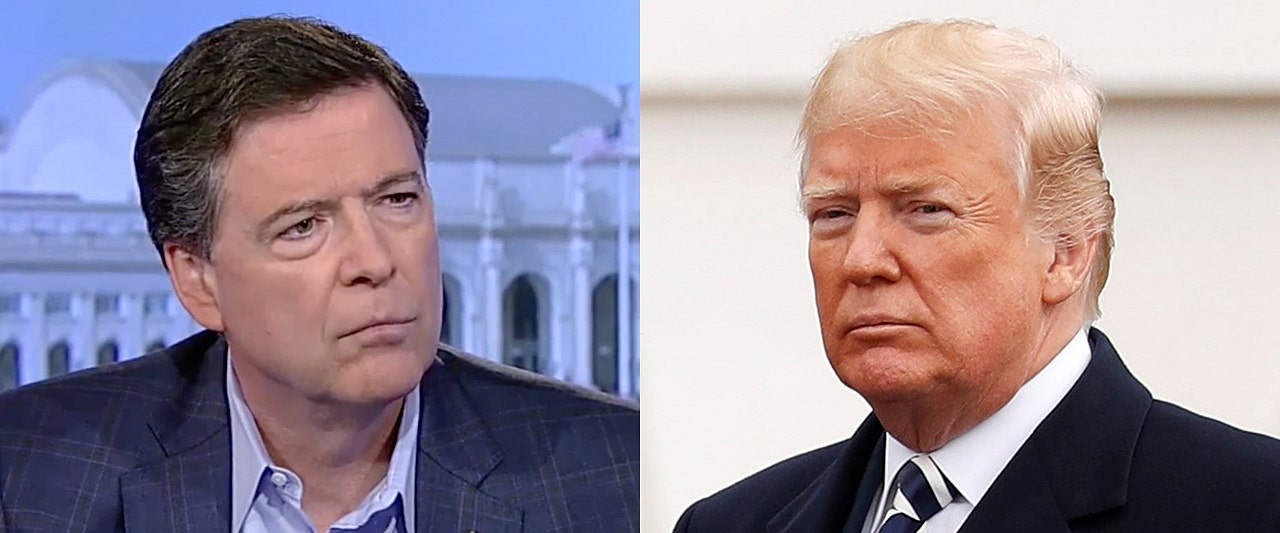 Judson Berger
President Trump slammed James Comey on Friday for denying in a Fox News interview that his decision to share memos detailing his conversations with the president constituted a leak – saying his former FBI director is "either very sick or very dumb."
Comey, whom Trump fired in May 2017, denied Thursday that sharing the memos with his legal team constituted a leak of classified information.
"I didn't consider it part of an FBI file," Comey told Fox News' Bret Baier during an appearance on "Special Report." He compared the process to keeping a "diary" and maintained a key memo "was unclassified then."
But, as Fox News has previously reported, the Justice Department inspector general is looking into Comey's handling of the memos – and Comey acknowledged in the interview that the IG has interviewed him.
Trump, who earlier Thursday claimed Comey was "guilty of crimes," fired back Friday on Twitter.
"Is everybody believing what is going on. James Comey can't define what a leak is. He illegally leaked CLASSIFIED INFORMATION but doesn't understand what he did or how serious it is. He lied all over the place to cover it up. He's either very sick or very dumb. Remember sailor!" he wrote.
His mention of the "sailor" apparently was a reference to Kristian Saucier, the former U.S. Navy sailor who served a year behind bars for taking photos of classified areas in a nuclear submarine. Trump recently pardoned him.
Comey, in the Fox News interview, acknowledged giving the memos to at least three people including his friend, Columbia University law professor Daniel Richman. He said he sent Richman a copy of the two-page unclassified memo and "asked him to get the substance of it out to the media" -- which he did.
"The reason I'm smiling, Bret," Comey said, "I don't consider what I shared Mr. Richman a leak."
Testifying before the Senate Intelligence Committee last year, Comey said he made the decision to document his interactions with Trump in a way that would not trigger security classification. He also testified that he avoided putting classified material in the memos so that they could be more widely shared.
The Wall Street Journal, however, reported that at least two of those memos have been to found to contain material now deemed classified, prompting the inspector general investigation.
In the seven total memos handed over to congressional committees, eight of the 15 pages have redactions under classified exceptions. They include classified information at one of the most sensitive levels -- SECRET -- as well as the lower level of confidential.
In one memo documenting his January 2017 Trump Tower meeting, Comey wrote that the material should be classified at the SECRET level unless the intelligence agencies thought otherwise.
"I am not sure of the proper classification here," Comey wrote, "so have chosen SECRET. Please let me know if it should be higher or lower than that."
Fox News' Samuel Chamberlain, Catherine Herridge and Alex Pappas contributed to this report.
Source>http://www.foxnews.com/politics/2018/04/27/trump-slams-comeys-leak-denial-very-sick-or-very-dumb.html