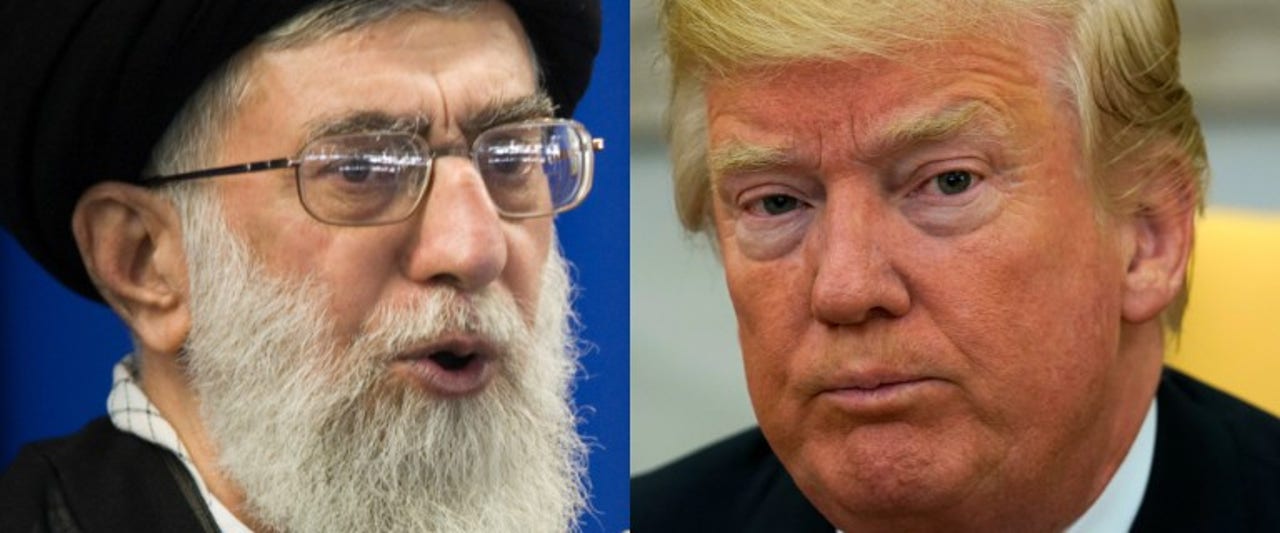 Gregg Re
Just days before President Trump is expected to make a key decision on the future of the Iran nuclear deal he has repeatedly threatened to scrap, Iran's foreign minister has publicly vowed that the country will not take any part in renegotiating the terms of the 2015 agreement.
"Iran will not renegotiate what was agreed years ago and has been implemented," Iran's Foreign Minister Mohammad Javad Zarif said in a five-minute English-language videoposted on YouTube.
Zarif's speech, delivered directly to the camera as he sat at his desk, is significant because the White House has shown some willingness to preserve the structure of the Iran deal if some of its key terms are modified.
But Zarif rebuked that notion as well as "the response from some Europeans," which he described as "offer[ing] the United States more concessions from our pocket."
Also on Thursday, a top adviser to Iranian Supreme Leader Ayatollah Ali Khamenei warned Europe and the U.S. against seeking changes to the deal.
"Even if U.S. allies, especially the Europeans, try to revise the deal..., one of our options will be withdrawing from it," Ali Akbar Velayati told state television, according to Reuters.
The comments rachet up a week already marked by sky-high tensions surrounding the nuclear arrangement.
On Monday, Israeli Prime Minister Benjamin Netanyahu revealed new "dramatic" intelligence which he claimed shows Iran is "brazenly lying" about its nuclear weapons program and shows the country is not complying with the nuclear deal.
"Some argue that if the United States leaves or significantly alters the Iran deal that would send the message to North Korea that we can't be trusted to live up to our commitments," Haley said. "Notice that the people who make that argument all think the Iran deal was something to be proud of.
"In fact, the argument has it backwards," Haley continued. By showing that we are willing to walk away from a bad deal with Iran, or to hold out for major improvements in that deal, we send the best possible message going into discussions with North Korea. The message is that we will not accept a bad deal just so that we can declare a hollow victory that fails to enhance our security."
Even as the leaders of Britain, Germany, and France work to save the arrangement, Trump has also long signaled that the deal's days may be numbered.
By law, Trump must decide by May 12 whether the U.S. should remain part of the current Iran deal.
"It should have never, ever been made," Trump said, echoing his longstanding criticisms. "We paid $150 billion dollars -- we gave $1.8 billion in cash -- that's actual cash, barrels of cash. It's insane, it's ridiciulous, it should have never been made."
The $150 billion figure refers to the approximate value of assets that were previously frozen by sanctions prior to the deal, which was reached by President Obama's administration in 2015.
The Obama administration acknowledged in 2016 that it paid $1.3 billion in interest to Iran in January of that year to end a longstanding dispute over arms that were sold to Iran but never delivered.
The news came shortly after it was revealed Obama had allowed $400 million in cash to fly to Tehran, which Republicans called a "ransom" because its delivery coincided with the release of four American prisoners.
Source>http://www.foxnews.com/world/2018/05/04/iran-vows-not-to-renegotiate-as-trumps-key-decision-on-nuclear-deals-future-looms.html