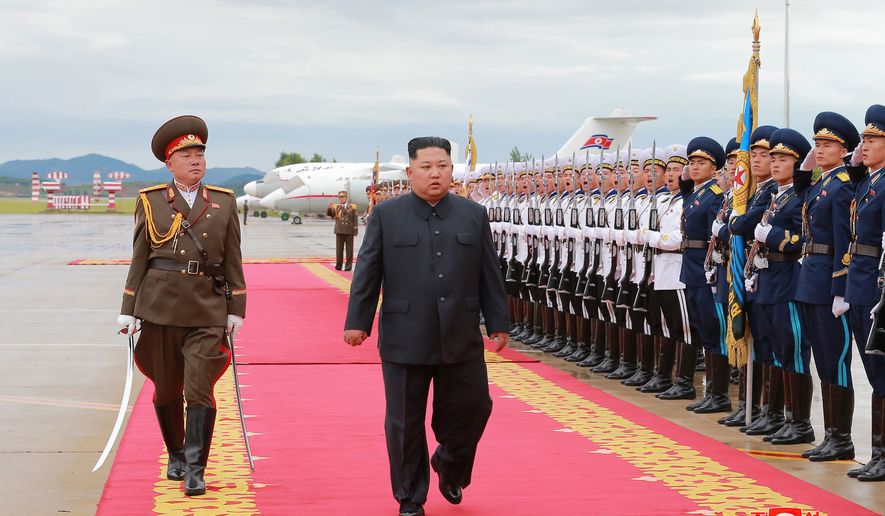 In this Sunday, June 10, 2018, photo provided by the North Korean government, North Korean leader Kim Jong Un, center, prepares to leave for Singapore, at Pyongyang international airport in Pyongyang, North Korea. Independent journalists were not given access to cover the event depicted in this image distributed by the North Korean government. The content of this image is as provided and cannot be independently verified. Korean language watermark on image as provided by source reads: "KCNA" which is the abbreviation for Korean Central News Agency. (Korean Central News Agency/Korea News Service via AP)
S.A. Miller
SINGAPORE — North Korea announced it's agenda Monday for the summit between Kim Jong-un and President Trump, including denuclearization and permanent peace on the Korean Peninsula.
Mr. Kim was tacking these fundamental issues and more, according to a report by Korean state-run news media, because it was "required by the changed era."
Korean Central News Agency said the summit would address "wide-ranging and profound views on the issue of establishing new DPRK-U.S. relations, the issue of building a permanent and durable peace-keeping mechanism on the Korean Peninsula, the issue of realizing the denuclearization of the Korean peninsula and other issues of mutual concern, as required by the changed era, will be exchanged at the DPRK-U.S. summit talks."
The agenda appeared in line with the goals set by Mr. Trump, who has said the historic summit is a "one-shot" opportunity to resolve the nuclear threat and bring peace and prosperity to North Korea.
Although a promising development ahead of the historic talks, Mr. Kim's commitment to the goal and an agreement on the terms and extent of denuclearization remained in question.
Still, the rhetoric out of Pyongyang bolstered Mr. Trump's optimism heading into the first-ever meeting between a U.S. president and a North Korean leader.
Source>https://www.washingtontimes.com/news/2018/jun/10/trump-kim-jong-un-summit-agenda-denuclearization-p/