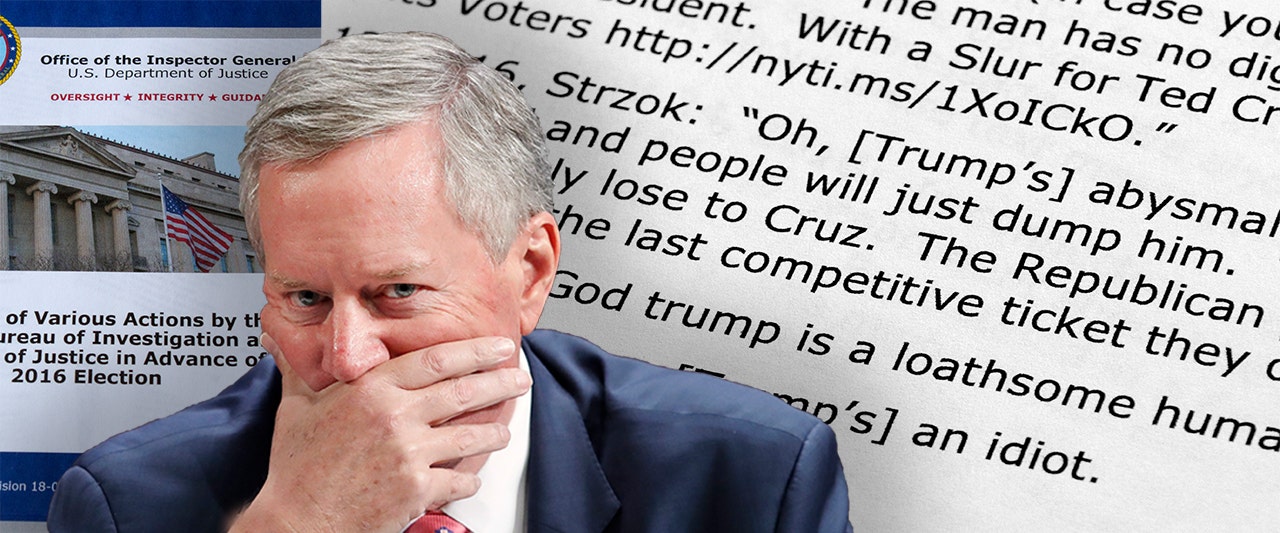 Gregg Re
The FBI may have "edited and changed" key witness reports in the Hillary Clinton and Russia investigations, a top House Republican charged in a hearing into FBI and Justice Department misconduct Tuesday.
Freedom Caucus Chair Rep. Mark Meadows, R-N.C, also raised the possibility that the FBI misled the DOJ watchdog in an attempt to hide the identities of FBI employees who were caught sending anti-Trump messages.
The House Judiciary and Oversight committees were questioning Justice Department Inspector General Michael Horowitz over his bombshell report into FBI and DOJ misconduct during the Hillary Clinton email probe.
"The other thing that I would ask you to look into, there is growing evidence that 302s were edited and changed," Meadows told Horowitz. "Those 302s, it is suggested that they were changed to either prosecute or not prosecute individuals. And that is very troubling."
So-called "302s" are reports on witness interviews compiled by federal investigators. Horowitz said later he has additional information suggesting that the witness reports were changed after-the-fact in both the Clinton and Russia probes -- a particularly alarming possibility given the IG report's findings of bias in those investigations.
Horowitz suggested that the IG is reviewing information concerning modified 302s, saying his office intended to "follow up" on the matter.
In a dramatic moment, Meadows then directly asked Horowitz whether two anonymous FBI employees identified as making anti-Trump statements in the IG's report were named Kevin Clinesmith and Sally Moyer.
Horowitz refused to confirm the employees' identities, which the FBI has declined to publicly reveal, citing the supposed sensitivity of their counterintelligence matters.
But Meadows suggested that justification may have been a sham.
"They don't work in counterintelligence," Meadows said. "If that's the reason the FBI is giving, they're giving you false information, because they work for the [FBI] general counsel."
In the IG report released last Thursday, the two unnamed anti-Trump FBI employees reacted with shock and dismay at Trump's election.
"I am numb," one wrote on Election Day. "Viva le resistance," the lawyer wrote later, in response to what he would do now that Trump had won.
Source>http://www.foxnews.com/politics/2018/06/20/fbi-may-have-modified-witness-reports-misled-doj-watchdog-with-false-information-gop-rep-says.html