This is the same Passive/Aggressive Language Used by Democrats to BULLY the PUBLIC into Submission. Clapper & Brennan have Crossed a Red Line formenting Sedition against the
President
...

tmiraldi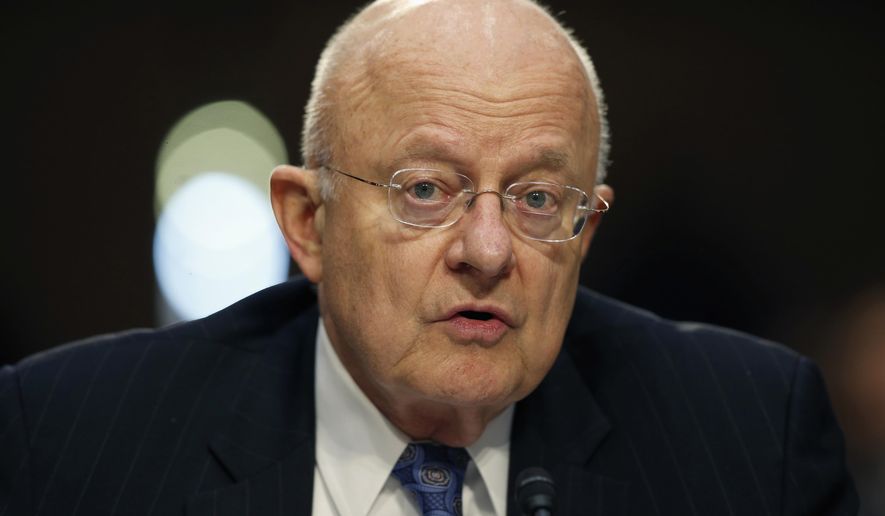 FILE - In this Feb. 9, 2016, file photo, National Intelligence Director James Clapper speaks on Capitol Hill in Washington. Clapper is among top U.S. intelligence officials set to testify on Jan. 5, 2017, at a Senate hearing to be dominated by accusations Russia meddled in America's presidential election to help Donald Trump win. (AP Photo/Alex Brandon, File)
Andrew Blake
President Trump will prompt Americans to swarm the streets if he follows through with firing special counsel Robert Mueller, former intelligence chief James Clapper predicted in an interview published Saturday.
Mr. Clapper, the former director of national intelligence under President Obama, made the remark in response to a question concerning the fate of Mr. Mueller's ongoing investigation into the 2016 White House race, Bloomberg reported.
"I don't want to get into all the hypotheticals about where things could go from here. But I think the biggest one on everyone's mind is whether Trump would fire Robert Mueller, the special counsel investigating Russian influence in the 2016 election," Mr. Clapper, 77, was asked in an interview. "Do you have any sort of specific thoughts on what would happen if he tried that?"
"Well, I think if he did, it would set off a firestorm and create a constitutional crisis. I think you'd have people in the streets, not unlike what I went through post-Vietnam – that was my war, Southeast Asia," replied Mr. Clapper, a retired Air Force lieutenant general who served in the Vietnam War prior to being stationed at a spy center in the Pacific during the 1970s.
Mr. Clapper's comment came as the special counsel's probe continues to come under fire from the president and other Republicans more than a year after Mr. Mueller, a former FBI director, was first appointed by the Department of Justice to investigate the 2016 race and any links between the Trump campaign and Russia, among other matters.
Mr. Mueller was picked to lead the department's Russia probe after his successor, James Comey, was fired by Mr. Trump last May while conducting the FBI's investigation into the 2016 race. Mr. Trump previously said he fired Mr. Comey because "of this Russia thing," and the special counsel's office is reportedly weighing whether the president obstructed justice in the process.
Critics of Mr. Mueller's probe have repeatedly called for his removal, potentially evoking a situation on par with the constitutional crisis that occurred in the early 1970s when a slew of resignations and firings ravaged the Nixon administration and paved the stage eventually for impeachment proceedings against the president.
"I think his strategy, which he's not very subtle about, is rather than do that he will simply try to undermine the investigation and undermine Mueller," Mr. Clapper said of Mr. Trump. "And so that regardless of what he comes out with, many in the public, particularly those who are in the Trump base, will not find it credible. And I think that's probably the more likely approach because I think he understands the firestorm it would create if he actually fired Mueller."
Rudy Giuliani, a member of Mr. Trump's legal team, denied the president plans to fire the special counsel when asked earlier this week.
"I don't think he's going to fire Mueller," Mr. Giuliani told reporters Wednesday at the White House.
As of Saturday afternoon, however, Mr. Trump's sights were again set on the special counsel.
"There was No Collusion with Russia (except by the Democrats). When will this very expensive Witch Hunt Hoax ever end? So bad for our Country," Mr. Trump tweeted Saturday.
Mr. Mueller's office has filed criminal charges against 19 people and three entities since launching its probe last May, including at least three members of the 2016 Trump campaign who subsequently pleaded guilty: George Papadopoulos, a former foreign policy adviser; Michael Flynn, the campaign's former national security adviser; and Rick Gates, a former campaign aide.
Source>https://www.washingtontimes.com/news/2018/jun/2/james-clapper-former-intel-chief-says-youd-have-pe/