What Could Be Less Believable Than The Characters In This PHOTO-OP?
...tmiraldi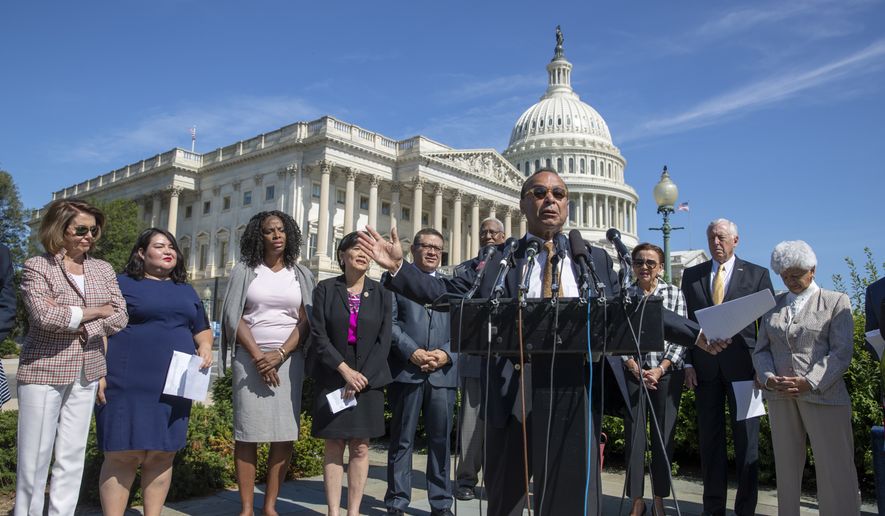 Rep. Luis Gutierrez, D-Ill., a leading advocate in the House for immigration reform, joins House Minority Leader Nancy Pelosi, D-Calif., far left, and other supporters of "dreamers" as they mark the 6th anniversary of the announcement of the Deferred Action for Childhood Arrivals (DACA) program, on Capitol Hill in Washington, Friday, June 15, 2018.
Douglas Ernst
Conservative author and Harvard Law graduate Ben Shapiro says outrage over conditions on the U.S. southern border is orchestrated so Democrats can play "political football" with children.
The editor-in-chief of the Daily Wire analyzed the history of separating illegal immigrants from their children on Monday while excoriating journalists for not doing their job. Mr. Shapiro presented three "lies" proffered by "patently irresponsible" new organizations as the story consumes news cycles.
The conservative said Americans should watch for the following talking points:
President Trump is responsible for laws that require law enforcement to separate illegal immigrants from their children while cases are being adjudicated.
All asylum seekers are being punished.
Mr. Trump is solely responsible for the conditions at facilities that house illegal immigrants.
"According to the media, all Trump has to do is wave his magic wand, and all will be well," Mr. Shapiro wrote. "This is a lie. More specifically, it's several lies."
Mr. Shapiro noted that the 9th Circuit Court of Appeals ruled in response to a 1997 federal agreement in a case called Flores "that the government either had to release whole families [of illegal immigrants in custody], or that the government had to separate parents from children."
He then echoed the Department of Homeland Security, which has noted that asylum seekers who go to proper border crossings are not separated from family members.
"The legislature can fix that law at any time," Mr. Shapiro said. "The facilities he's using are the same facilities Obama used. Pretending that this is Japanese internment (as Laura Bush suggested) or the Holocaust (as General Michael Hayden suggested) is ridiculous. This policy ought to be fixed. But lying about it isn't designed to fix it. It's designed to prevent a fix by allowing Democrats to play political football with children, believing they're winning a victory by holding Trump's feet to the fire with pictures of crying children."
Mr. Trump also commented Monday in a series of tweets.
"Why don't the Democrats give us the votes to fix the world's worst immigration laws?" he wrote. "Where is the outcry for the killings and crime being caused by gangs and thugs, including MS-13, coming into our country illegally? … It is the Democrats fault for being weak and ineffective with Boarder Security and Crime. Tell them to start thinking about the people devastated by Crime coming from illegal immigration. Change the laws!"