Yet the Wholesale Destruction of HUMAN LIFE by Abortionists Makes a Righteous People.
The Convolution of TRUTH!
...tmiraldi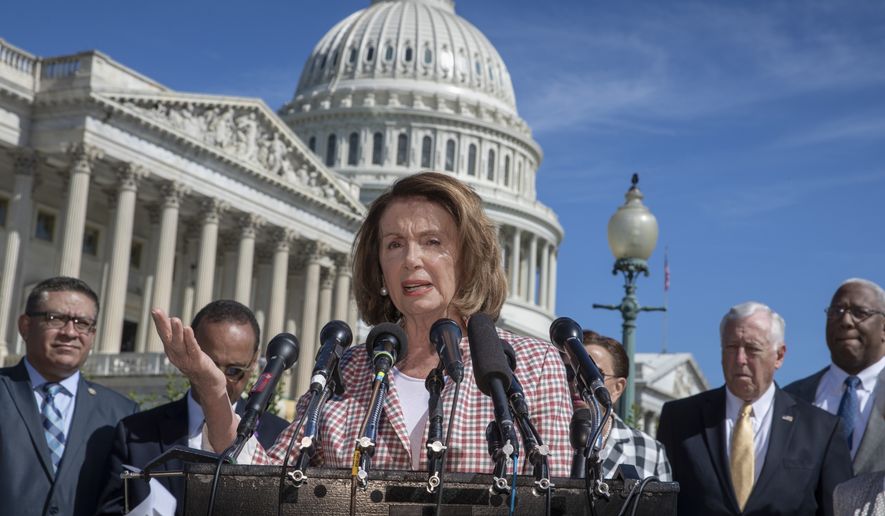 House Minority Leader Nancy Pelosi, D-Calif., and lawmakers show support of "dreamers" as they mark the 6th anniversary of the announcement of the Deferred Action for Childhood Arrivals (DACA) program, on Capitol Hill in Washington, Friday, June 15, 2018. Pelosi says the GOP immigration bill fails to provide a permanent legislative fix to protect dreamers and would codify President Trump's anti-immigrant agenda. (AP Photo/J. Scott Applewhite)
Douglas Ernst
House Minority Leader Nancy Pelosi unleashed a broadside against "all people of faith in our country" on Friday over prosecutions of illegal immigrants on the southern border.
Attorney General Jeff Sessions' recent comments that respecting the rule of law is a biblical principle sparked a scathing response from the California Democrat on Friday. Mrs. Pelosi accused the Trump administration, its surrogates and all people of faith of gross hypocrisy for not agreeing with her preferred policy regarding the children of illegal immigrants.
Parents who illegally cross into the U.S. are briefly separated from children for up to three weeks while their case is adjudicated. Minors are given medical care, meals, and educational material in accordance with federal regulations.
"The very hypocrisy of the Attorney General to quote the Bible, the hypocrisy of all people of faith in our country not to clamor for what the administration is doing to end — whether it's to deprive the dreamers of the respect they deserve or whether its taking babies away from their mothers and fathers," Mrs. Pelosi said Friday, the Daily Caller reported.
At issue is Mr. Sessions address to law enforcement officials in Indiana on Thursday in which he said Apostle Paul made a "clear and wise command in Romans 13 to obey the laws of the government because God has ordained them for the purpose of order."
"We are not sending children to jail with their parents," he said. "Noncitizens who cross our borders unlawfully, between our ports of entry, with children are not an exception. They are the ones who broke the law. They are the ones who endangered their own children on their trek. The United States, on the other hand, goes to extraordinary lengths to protect them while the parents go through a short detention period."
Mr. Trump used Twitter on Friday to blast Democrats for exploiting policies that existed under former President Obama.
"The Democrats are forcing the breakup of families at the Border with their horrible and cruel legislative agenda," he tweeted. "Any Immigration Bill MUST HAVE full funding for the Wall, end Catch & Release, Visa Lottery and Chain, and go to Merit Based Immigration. Go for it! WIN!"
Source>https://www.washingtontimes.com/news/2018/jun/15/nancy-pelosi-blasts-the-hypocrisy-of-all-people-of/