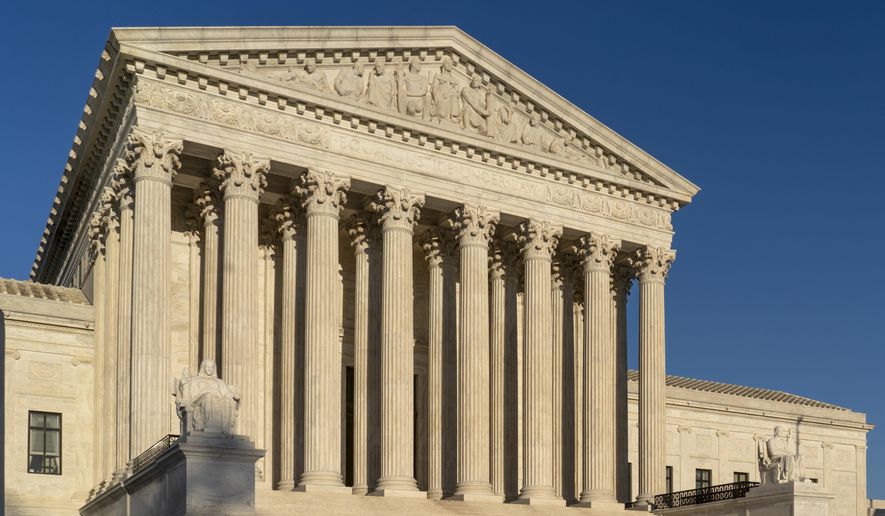 Alex Swoyer
The Supreme Court upended decades of precedent Wednesday and ruled that a public sector labor union can't force non-members to pay dues.
The justices, in the 5-4 ruling, said public sector unions take political positions and forcing people to pay dues means they end up funding speech and political activity they may disagree with.
"Fundamental free speech rights are at stake," wrote Justice Samuel A. Alito Jr., who authored the majority opinion.
Labor unions had been bracing for the ruling, fearing it would sap them of money and influence and warning it will leave public sector workers with less of a coherent voice in major political debates over government services.
The case came from Illinois, where Mark Janus, a state employee, sued the American Federation of State, County, and Municipal Employees, Council 31 claiming he should not have to pay mandatory union fees as a non-member because he disagrees with the policies AFSCME backs.
A lower court, citing past Supreme Court ruling, sided with the union.
But the high court on Wednesday said that 1977 precedent, Abood v. Detroit Board of Education, was wrong.
Justice Elena Kagan, joined by the court's other liberal justices, dissented, writing the court's decision will transform the relationship between public employees and their employers in unexpected ways. She said it will also cause unions to suffer a financial blow.
President Trump said the ruling will hurt Democrats.
"Supreme Court rules in favor of non-union workers who are now, as an example, able to support a candidate of his or her choice without having those who control the Union deciding for them. Big loss for the coffers of the Democrats!" the president tweeted.
His administration had backed Mr. Janus in court, reversing the Obama administration, which had backed the labor unions.
Mr. Janus said the ruling restored the rights of millions of government workers across the country.
"So many of us have been forced to pay for political speech and policy positions with which we disagree, just so we can keep our jobs. This is a victory for all of us. The right to say 'no' to a union is just as important as the right to say 'yes,' " he said.
J. David Cox Sr., president of the American Federation of Government Employees, said the ruling would shift power from workers to rich political donors. He said the decision should galvanize union members into action.
"On behalf of the wealthiest one percent and special interest groups, the Supreme Court has attempted to strike the death knell for public-sector unions, but the workers themselves will ultimately decide their own fate," Mr. Cox said. "Workers know the importance of unions in the workplace and they will survive."
Paul Shearon, secretary treasurer of the International Federation of Professional and Technical Engineers, said Mr. Janus' case was funded by corporate interests intent on undercutting labor unions.
"This wasn't about free speech — this was about silencing workers' voices," he said.
Tom Perez, chairman of the Democratic National Committee and former secretary of labor, said Republican interests were to blame for chipping away at decades of Supreme Court precedent favoring unions.
"Attacking unions is one of the most powerful tactics in the Republican playbook to enrich their wealthy friends at the expense of working people. In fact, Republicans are so determined to undermine workers that they held a Supreme Court seat hostage for nearly a year in order to nominate an aggressively anti-union justice," Mr. Perez said, putting the blame for the ruling on Mr. Trump's Supreme Court nominee Justice Neil M. Gorsuch.
Two years ago, when a similar case came to the high court after the death of Justice Antonin Scalia, it deadlocked 4-4. Justice Gorsuch filled Scalia's seat and proved the tie-breaking vote Wednesday.
Democrats remain salty over the GOP's handling of Scalia's vacancy. Senate Majority Leader Mitch McConnell, Kentucky Republican, refused to hold a hearing or a vote for President Obama's nominee.
Mr. McConnell said the winner of the 2016 election should pick the new justice.
Source>https://www.washingtontimes.com/news/2018/jun/27/supreme-court-rules-government-workers-cant-be-for/