As the Law Stands NOW, We are Complicit in Assisting HUMAN Smuggling Into Our Nation.
...tmiraldi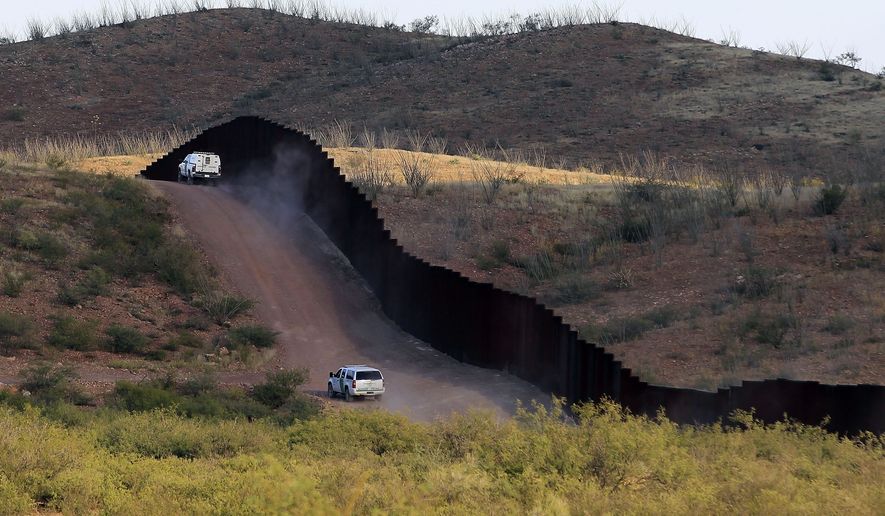 FILE - In this Oct. 2, 2012 file photo, U.S. Border Patrol agents patrol the border fence in Naco, Ariz. National guard contingents in U.S. states that border Mexico say they are waiting for guidance from Washington to determine what they will do following President Donald Trump's proclamation directing deployment to fight illegal immigration and drug smuggling. Governors of the border states of Arizona and New Mexico have welcomed deployment of the Guard along the southwest border as a matter of public safety. (AP Photo/Ross D. Franklin, file)
Stephen Dinan
While official Washington's attention has been focused this week on President Trump and illegal immigrant parents separated from their children, Border Patrol agents in Arizona spotted a completely different type of family separation.
Agents say they were patrolling the border road near Lukeville, Arizona, on Tuesday night when the discovered a 6-year-old Costa Rican boy abandoned on the road in 100-degree heat.
The child told the agents he'd been dropped off on the road by his uncle, who'd told him the Border Patrol would pick him up, agents said. The boy said his mother was an illegal immigrant living in the U.S., and his uncle told the boy the American government would take him to her.
Costa Rica's foreign ministry said the boy was in good condition, and they had already reached out to the mother.
Agents said the incident was a reminder of the dangers illegal immigrants face making the trip north, and the heartlessness of smugglers and others who facilitate the flow of people trying to jump the border.
Last year, some 17 percent of UAC turned over to the Health Department were 12 years of age or younger.
But the incident also exposes the bizarre incentives of U.S. law.
The child, who was apprehended alone, will now be treated as an Unaccompanied Alien Child, or UAC — the same status as children separated from their parents as a result of Mr. Trump's zero-tolerance border policy.
He'll be quickly shipped to social workers at the federal Health and Human Services Department where he'll be placed into a dormitory with other UAC.
Since officials know his mother, he'll likely eventually be delivered to her, at taxpayer expense, even though she's in the U.S. illegally.
One federal judge has said that process amounts to the U.S. completing the smuggling cycle that the boy's family started.
Source>https://www.washingtontimes.com/news/2018/jun/20/6-year-old-illegal-immigrant-boy-abandoned-uncle-a/