The Party of Lifestyles Prohibited in the Bible, the Genocide of the Unborn, and former Slave Owners have the mitigated gall to speak to us about Morality. Let's not forget the deceit and dishonor of their disbelief in GOD
...

tmiraldi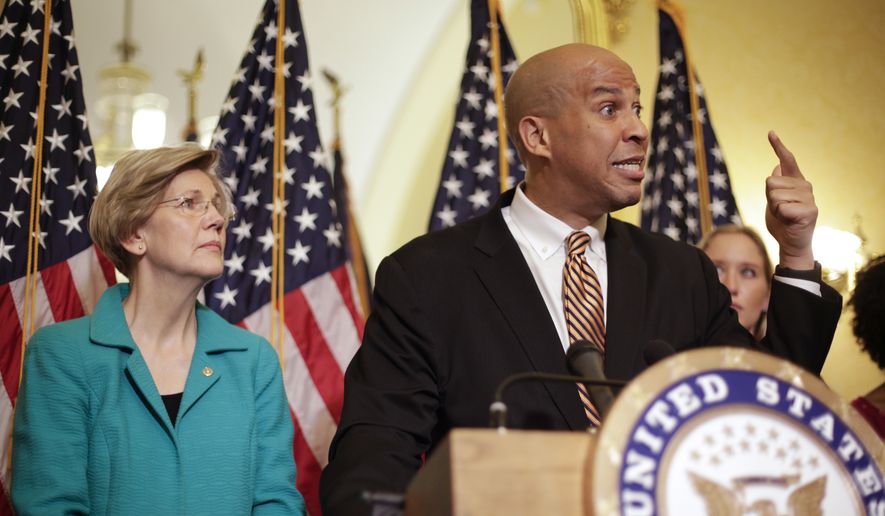 Sen. Cory Booker, D-N.J., and Sen. Elizabeth Warren, D-Mass., participate in a news conference on Capitol Hill in Washington, Tuesday, July 11, 2017, to discuss the introduction of the Dignity for Incarcerated Women Act.
Alex Swoyer
Liberal 2020 presidential hopefuls quoted from the Bible Tuesday, saying the responsibility of the Senate to fill the vacancy on the Supreme Court is a moral choice.
Massachusetts Sen. Elizabeth Warren and New Jersey Sen. Cory Booker said the choice is between a pro-corporate court or one that sides with minorities and people in need, claiming that since 2006 the court under Chief Justice John G. Roberts has sided with the pro-business Chamber of Commerce 70 percent of the time.
They questioned what Judge Brett M. Kavanaugh, President Trump's Supreme Court nominee, would add to the court since he was vetted by the Federalist Society and Heritage Foundation, two conservative organizations.
"Corporations have won 62 percent of the cases they've been in whenever they are up against workers, shareholders, people who represent the public interest," Ms. Warren said at a press conference on Capitol Hill.
"This moment is crystalized in Matthew 25," she said, surrounded by faith leaders.
Recalling the Bible passage, she said it emphasizes the value in each and every human.
"It is not enough to have a good heart … we are called to act," Ms. Warren said. "We are on the moral side of history."
He said Judge Kavanaugh has sided with corporations over people and against a woman's right to control her own body.
"If someone shows you who they are, believe them the first time. He has shown us who he is," Mr. Booker said.
Carrie Severino, chief counsel for the conservative Judicial Crisis Network, pushed back on the accusations from Mr. Booker and Ms. Warren, saying Judge Kavanaugh is independent and listens to all sides in the courtroom before issuing decisions.
"Radically liberal Senators such as Warren and Booker don't want judges and justices, they want liberal activist politicians who will impose their leftist political agenda from the bench," she told The Washington Times.
Source>https://www.washingtontimes.com/news/2018/jul/24/liberal-2020-hopefuls-quote-bible-call-reject-bret/