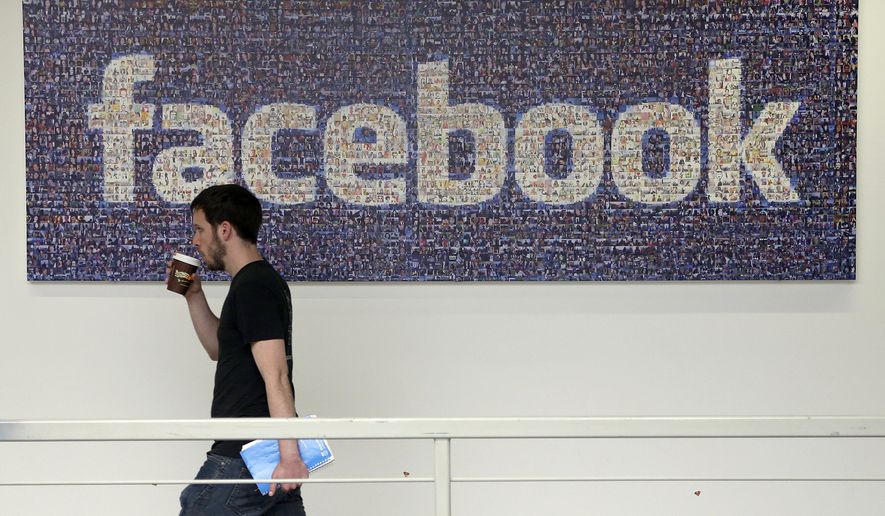 Stephen Dinan
Facebook's attempt to stop Russian interference in the U.S. elections has enraged activists who say illegal immigrants will be banned from buying political ads on the internet platform.
Buying an ad on Facebook now requires a government-issued ID, a U.S. address and a valid Social Security number — which only American citizens and migrants who have been approved for work in the U.S. are generally supposed to have.
Activists said the policy could even snare U.S. citizens, usually older and poorer and often minorities, who don't have a driver's license or passport.
But they were most angry about the Social Security requirement, which they said will muzzle illegal immigrants and other noncitizens while leaving their political opponents — Americans who want a crackdown on illegal immigration — free to use Facebook.
"Facebook's constantly evolving ad-buying policies discriminate against immigrants based on their citizenship status, effectively silencing organizations that are led by already marginalized people," said Isabel Sousa-Rodriguez, director of membership and organizing at the Florida Immigrant Coalition.
Activists said the policy is particularly egregious because Facebook has sold ad space to U.S. Customs and Border Protection, the government agency that mans the ports of entry and patrols the border to snare drugs, weapons and people trying to sneak into the U.S.
"Which side is Facebook on?" the groups demanded, suggesting that the internet giant must choose between law enforcement and illegal immigrants.
Facebook has been reeling over evidence that Russian operatives managed to use the platform to sow chaos during the 2016 presidential election season. Some of the ads were even paid for in rubles, the Russian currency, sparking outrage that Facebook ignored red flags about foreigners trying to interfere.
In the 21 months since the last national election, Facebook has purged suspicious accounts — including 32 this week — and tried to figure out ways to weed out foreigners attempting to influence votes.
The ad policy, rolled out in the spring, requires people buying political ads to provide the last four digits of their Social Security numbers as well as U.S. mailing addresses and government-issued IDs. Facebook will use those identifiers to verify each purchaser is an American and mail an access code.
Since neither illegal immigrants nor short-term visa holders have permanent legal status in the U.S., the policy by default treats them as most other foreigners.
The activists said they complained to Facebook after the rollout but were not satisfied.
Mark Krikorian, executive director at the Center for Immigration Studies, said he doesn't see much Facebook can do.
"The complaints about Russia were that foreigners were interfering in our electoral process. That's potentially a real problem, but there's no way to deal with that without also keeping illegal aliens from participating," he said.
"The hysteria over Russia's interference in our election is now biting the anti-borders left in its behind. In the big picture, I'm not sure it matters one way or the other, but the irony's delicious."
Attempts to reach social media policy analysts Thursday were unsuccessful.
Facebook said it was "listening to feedback from many groups" but defended the goal of the policy.
"The advertiser authorization process is designed to help ensure people know who's behind the political ads they see on Facebook," spokesman Devon Kearns said.
The business has long faced accusations of tilting to the political left, and the criticism from that side of the spectrum could be particularly stinging from activists who compare the company to police demanding that immigrants show their IDs.
"Facebook's 'show me your papers' policy will prevent the communities most surveilled and targeted by the Trump regime from fully participating in our democracy," said Nicole Regalado, campaign manager at Credo.
Source>https://www.washingtontimes.com/news/2018/aug/2/illegal-immigrants-say-facebook-discriminates/