'Sometimes We Get Things Wrong'
Another Mea Culpa from Facebook, always correcting itself with its Disingenuous Apologies. What's curious is how it always affects the voice of Conservative Opinion. In the days of Stalin. Mao, and others, it was called Censorship...Propaganda.
...tmiraldi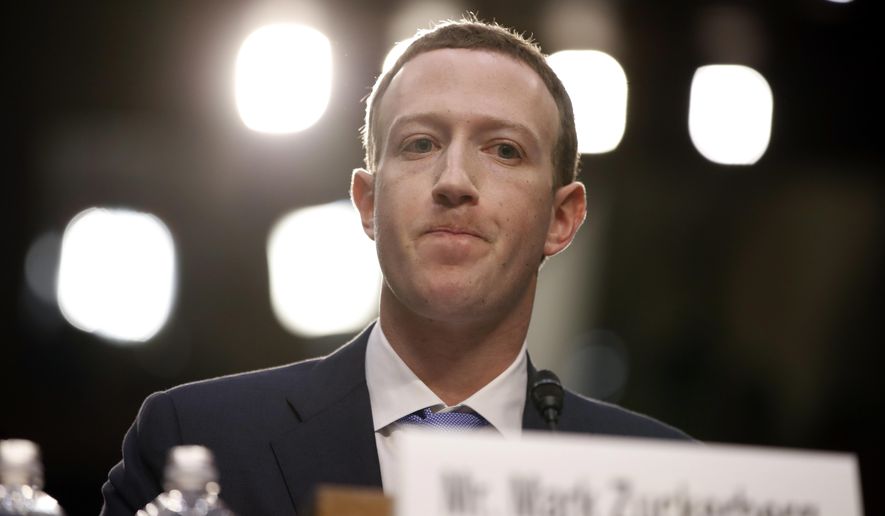 (AP Photo/Alex Brandon)
Stephen Dinan
Facebook said Thursday night that it made a mistake in removing a comment by a conservative group that posted about illegal immigration after the death of Iowa college student Mollie Tibbetts.
The admission came hours after William Gheen, head of Americans for Legal Immigration Political Action Committee, said he'd had his post removed and been slapped with a 24-hour ban for posting what Facebook said was "hate speech."
Mr. Gheen was surprised by the move because his post had talked about illegal immigration but he didn't think it crossed any lines.
Facebook now agrees.
"We mistakenly removed a comment by William Gheen and restored it as soon as we were able to investigate because it did not violate our community standards," the company said in a statement to The Washington Times. "Our team processes millions of reports each week, and sometimes we get things wrong. We are sorry this happened."
Earlier, ALIPAC had accused Facebook of "trying to defend the illegal alien murder" in the case of Cristhian Rivera, an illegal immigrant who authorities have charged with the killing of Tibbetts. Mr. Rivera had been living illegally in the U.S. for years, holding a job under a fake I.D., according to the farm where he worked.
Authorities say he targeted Tibbetts, killed her, then hid her body in a cornfield. After investigators identified him this week he guided them to her body.
The killing has ignited a fierce debate over illegal immigrants and crime.
Billie Jo Calderwood, Tibbetts' aunt, weighed in on Facebook this week, saying, "Evil comes in EVERY color. Our family has been blessed to be surrounded by love, friendship and support throughout this entire ordeal by friends from all different nations and races."
That drew the response in question from ALIPAC.
"Please do not make this about race Billie Jo Calderwood. Many Americans are fighting to stop the thousands of murders of U.S. citizens by illegals that occur each year due to our government's failure to enforce the existing border and immigration laws of America."
The group continued: "We hope you will join the other grieving Angel Families who are fighting to prevent crimes like the one that befell Mollie due to the special interests fueling illegal immigration in America. Prayers for your family at this difficult time. For most of us, it is not about race or color. It is about the laws designed to protect all Americans."
A Facebook user apparently flagged the message and a company employee removed it, deeming it "hate speech," according to a message Mr. Gheen received.
Source>https://www.washingtontimes.com/news/2018/aug/23/facebook-admits-error-deleting-william-gheen-immig/