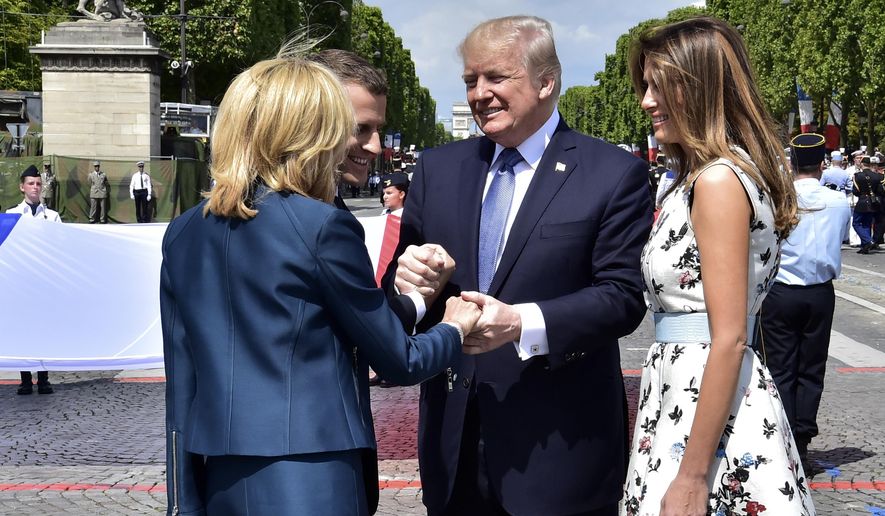 French President Emmanuel Macron, second left, shakes hands with U.S President Donald Trump while first lady Melania Trump and Brigitte Macron, left, walk on sides after the Bastille Day military parade on the Champs Elysees avenue in Paris.
(Christophe Archambault, Pool via AP, file)
Carlo Muñoz
Congressional defense lawmakers have reluctantly given the green light to the Trump administration's plans to hold a military parade down the streets of Washington, D.C.
Members of the House and Senate defense panels approved plans for the effort as part of the committee's joint version of the fiscal year 2019 defense budget blueprint.
The full House approved the plan last month, with the Senate expected to sign off on the bill in the coming weeks. The decision to include funding for the parade was unexpected, as lawmakers on both sides of the aisle opposed the plan, in both the House and Senate versions of the defense bill.
But administration critics, including a number of former, senior military officers have lambasted the idea, claiming the parade would be a waste of defense budget dollars that could be used to finance other, more pressing national security requirements.
Others argue such a public show of military might by the U.S. would too closely mimic propagandist actions taken totalitarian regimes like North Korea and the former Soviet Union.
The only Western nation to hold a military parade like the one envisioned by the White House is France, whose parade celebrating the country's Bastille Day. That event inspired Mr. Trump to order a similar one for the American military.
Mr. Trump in February defended the idea, saying the military's senior brass and top Pentagon leaders were in favor of the parade.
"The generals would love to do it, I tell you, and so would I," Mr. Trump told Fox News at the time.
"We'll see if we can do it at a reasonable cost, and if we can't, we won't do it. but … I think it's great for our country in terms of being a cheerleader and the spirit," he added.
Source>https://www.washingtontimes.com/news/2018/aug/1/trump-military-parade-gets-ok-lawmakers-defense-co/