Court frets over 'confusion' of messy legal battles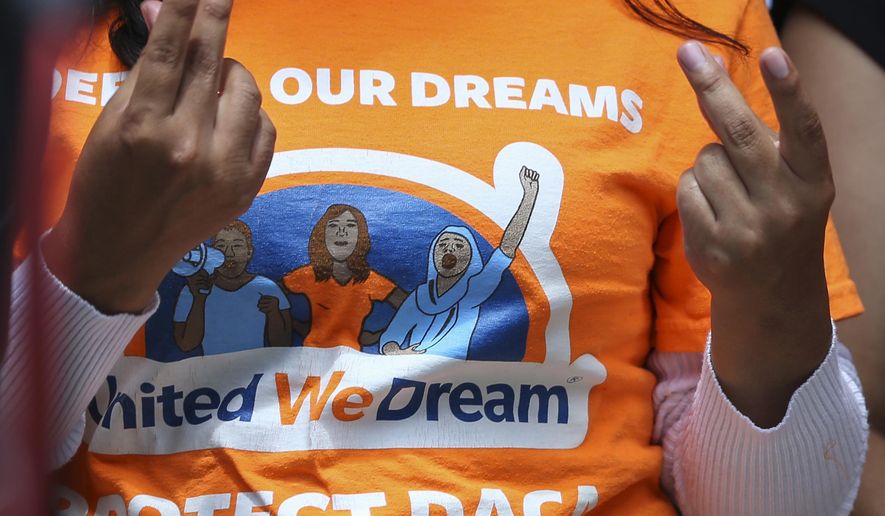 (Yi-Chin Lee/Houston Chronicle via AP)
The federal judge who had ordered the government to restart the Obama-era DACA deportation amnesty in full backed off his decision Friday and said the government does not, after all, have to begin accepting brand new applications.
Judge John D. Bates acknowledged the legal mess that's arisen around DACA and said he didn't want to make it worse, so he issued a partial stay of his own ruling.
That means that while illegal immigrant "Dreamers" who already have had DACA protections can apply for renewals, no brand new applicants can apply to start the process.
Judge Bates also delayed part of his previous ruling that would have allowed those with DACA to apply for special protections known as advance parole — permission to travel outside the U.S. and then return — which can, in some cases, turn into a pathway to citizenship.
Hundreds of DACA recipients had exploited that loophole under the Obama administration, but the Trump administration had shut it down.
The government had said that if DACA were completely restarted more than 100,000 new applications would be filed, as well as 30,000 requests for advance parole. That would overwhelm U.S. Citizenship and Immigration Services, the agency that handles the applications, Judge Bates ruled.
He said he realized illegal immigrants were being denied rights he said they were entitled to, but said he feared the confusion that would result.
"Because that confusion would only be magnified if the court's order regarding initial DACA applications were to take effect now and later be reversed on appeal, the court will grant a limited stay of its order and preserve the status quo pending appeal, as plaintiffs themselves suggest," he said in a short opinion late Friday.
Immigrant-rights advocates, who had originally wanted a full restart, eventually changed their minds and agreed with the split ruling of no new DACA applications, but renewals could be processed.
That decision was based on a legal gamble.
DACA cases are pending in three courts right now. Judge Bates' case is likely to be appealed to the circuit court in Washington, D.C., while circuit courts are already handling appeals of similar decisions from California and New York.
Each of those lawsuits challenged the Trump administration's decision last year to phase out DACA. The judges in those cases ruled that the Trump administration cut too many corners, and so the phaseout is illegal.
But another case in Texas involves a challenge to the original 2012 Obama administration decision to create DACA in the first place. If that judge were to rule against DACA it would create a messy situation where the program itself is illegal — but so is the phaseout.
The activists in the case before Judge Bates figured that they could undercut the anti-DACA Texas case by agreeing not to allow new DACA permits to be granted.
Source>https://www.washingtontimes.com/news/2018/aug/18/judge-halts-full-daca-restart/