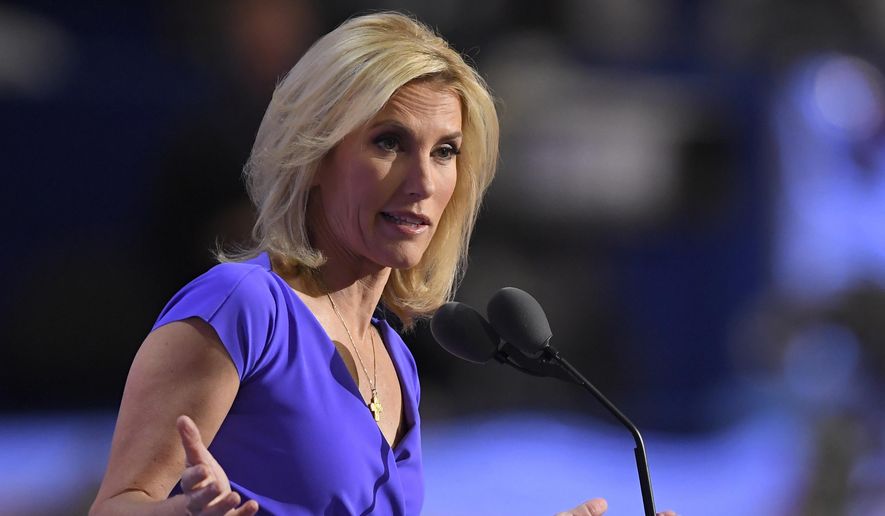 (AP Photo/Mark J. Terrill, File)
Jessica Chasmar
Fox News host Laura Ingraham is again facing calls for a boycott after she lamented the country's "massive demographic changes" due to legal and illegal immigration during her monologue Wednesday night.
"In some parts of the country, it does seem like the America that we know and love doesn't exist anymore," the conservative said on her Fox News show "The Ingraham Angle."
"Massive demographic changes have been foisted upon the American people," she continued, "and they're changes that none of us ever voted for and most of us don't like. From Virginia to California, we see stark examples of how radically in some ways the country has changed. Now, much of this is related to both illegal and in some cases, legal immigration that, of course, progressives love."
Ms. Ingraham then cited several stories where illegal immigrants committed heinous crimes after slipping through the cracks of the immigration system. She called on President Trump to enforce existing immigration laws, strengthen border security and build the wall.
"This is a national emergency and he must demand that Congress act now," she said. "There is something slipping away in this country and it's not about race or ethnicity. It's what was once a common understanding by both parties that American citizenship is a privilege, and one that at a minimum requires respect for the rule of law and loyalty to our Constitution."
Ms. Ingraham's comments about changing demographics sparked a firestorm on Twitter, with many users calling on Fox News advertisers to pull out of her show.
This is the third time that Ms. Ingraham has faced blowback this year. Parkland shooting survivor and anti-gun activist David Hogg has led two boycotts against the Fox News host since March, the first when she made fun of him for not getting into college and the second when she compared child migrant detention centers to "summer camps."
Despite both boycott attempts, Mr. Ingraham has enjoyed some of her highest ratings ever.
Source>https://www.washingtontimes.com/news/2018/aug/9/laura-ingraham-under-fire-lamenting-americas-massi/