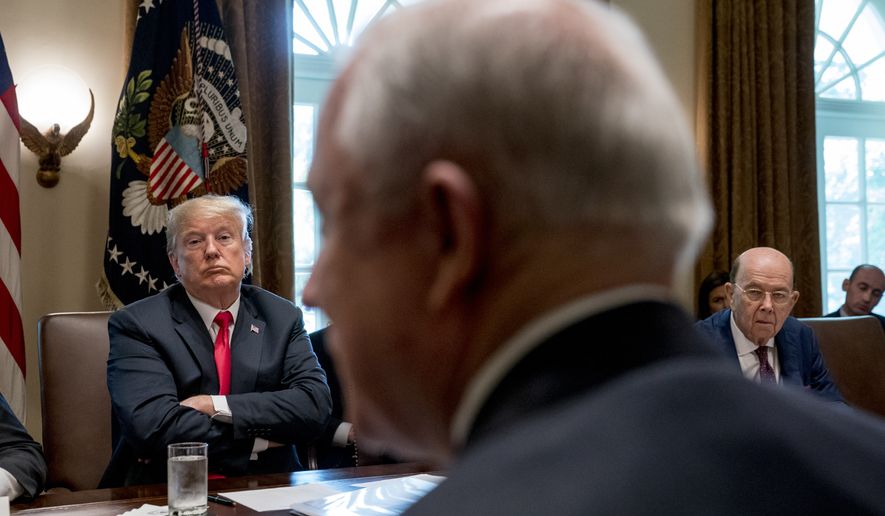 President Donald Trump, left, listens as Attorney General Jeff Sessions, foreground, speaks during a cabinet meeting in the Cabinet Room of the White House, Thursday, Aug. 16, 2018, in Washington. Also pictured is Commerce Secretary Wilbur Ross, right. (AP Photo/Andrew Harnik)
Dave Boyer
President Trump slammed Attorney General Jeff Sessions Thursday, saying he has allowed Democrats to control the Justice Department and get away with "subversion" of his administration.
"I put in an attorney general that never took control of the Justice Department, Jeff Sessions," Mr. Trump said in a lengthy interview on "Fox & Friends." "It's sort of an incredible thing."
Mr. Trump pointed to the several examples of misapplied justice, including the case of Imran Awan, the former IT administrator for Democratic Rep. Debbie Wasserman Schultz of Florida, who received no jail time from a judge this week for bank fraud after federal prosecutors didn't pursue more serious charges of running a spy ring inside Congress and stealing congressional computer equipment.
"He had more information on the corruption of the Democrats than anybody," Mr. Trump said. "They gave him nothing. He's a Democrat, he got nothing. The reason he got nothing is because the 'Dems' are very strong in the Justice Department."
The president also raised the issue of fired FBI agent Peter Strzok and his paramour, FBI attorney Lisa Page, who exchanged anti-Trump text messages during the campaign. Mr. Strzok went on to work on special counsel Robert Mueller's team.
"It's really subversion," the president said of the pair. "And our Justice Department doesn't do anything about it. People say 'you appointed Jeff Sessions. I said I did."
Asked if he might fire Mr. Sessions after the mid-term elections, Mr. Trump didn't answer directly.
"There's such corruption," he said. "It's from before I got here. It's the Obama administration. They surveilled my campaign."
When interviewer Ainsley Earhardt noted that Deputy Attorney General Rod Rosenstein signed the final request for a special court to approve a surveillance warrant, Mr. Trump replied, "It bothers me, it's always bothered me."
"I wanted to stay uninvolved," he said. "But when everybody sees what's going on in the Justice Department, it's a very very sad day."
Reviving his continual complaint that Mr. Sessions recused himself from the investigation into possible Russian collusion, Mr. Trump said the attorney general "should have told me."
"He took the job, and then he said I'm going to recuse myself. I said what kind of a man is this?" Mr. Trump said. "He was on the campaign. The only reason I gave him the job [was] because I felt loyalty — an original supporter. He knows there was no collusion."
Source>https://www.washingtontimes.com/news/2018/aug/23/trump-slams-sessions-letting-democrats-control-jus/