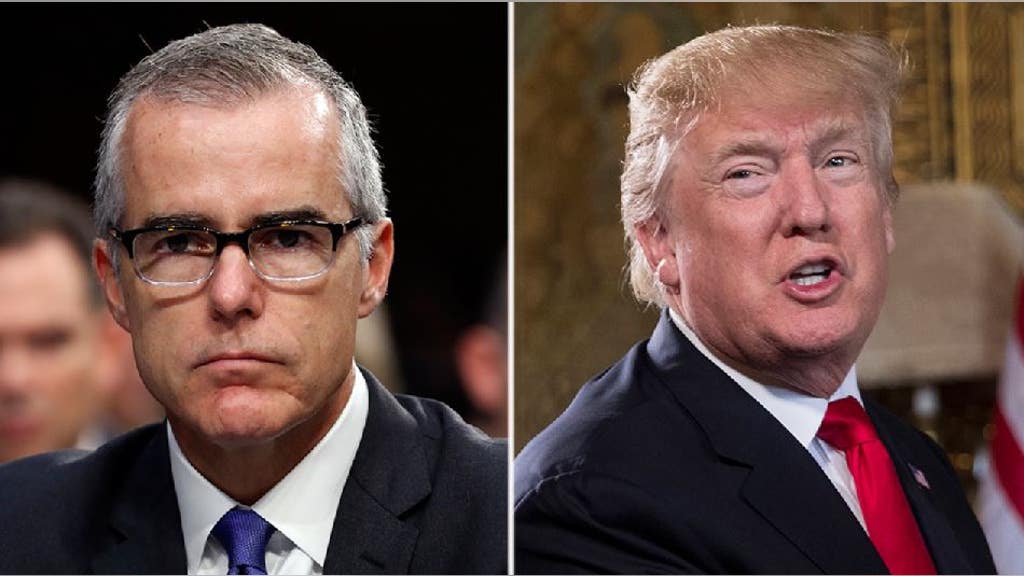 Adam Shaw
President Trump on Saturday threatened to "get involved" in the fight by a conservative watchdog to obtain text messages by fired deputy FBI Director Andrew McCabe related to his wife's 2015 state senate campaign.
"Why isn't the FBI giving Andrew McCabe text messages to Judicial Watch or appropriate governmental authorities," he tweeted.
"FBI said they won't give up even one (I may have to get involved, DO NOT DESTROY). What are they hiding? McCabe wife took big campaign dollars from Hillary people....."
Judicial Watch has been fighting to gain access to McCabe's messages related to his wife Jill's 2015 Virginia state senate campaign. The Wall Street Journal first reported in October 2016 that Virginia Gov. Terry McAuliffe's political action committee , gave nearly $467,500 to her campaign. The Virginia Democratic Party spent an addition $207,788 on the campaign.
The revelation raised concerns that the substantial donation biased the former deputy director and had an impact on the investigation into Clinton's use of a private email server. In an op-ed for The Washington Post, Jill McCabe responded to the claims, noting that her husband's involvement in the Clinton probe came after the race was over.
"Now that I can speak on my own behalf, I want people to know that the whole story that everything is based on is just false and utterly absurd," she said.
Andrew McCabe was fired by Attorney General Jeff Sessions in March after the Justice Department's inspector general found that he made an "unauthorized disclosure to the news media and lacked candor -- including under oath -- on multiple occasions."
Trump has since returned to raising questions about the 2015 donations on multiple occasions as part of his broadsides against the FBI and its investigations into both Clinton's emails and Russian interference in the 2016 election.
On Saturday, in a follow-up tweet, he asked if the FBI will "ever recover it's once stellar reputation" and said it was damaged by top FBI officials, including former FBI Director James Comey, McCabe and officials Peter Strzok and Lisa Page.
Anti-Trump texts between Page and Strzok, who was involved in both the Clinton and the Russia probe, have raised further questions about possible political bias within the FBI.